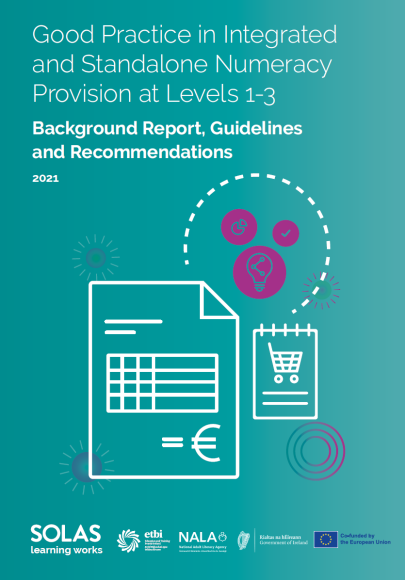 Date: September 2021
Author: National Adult Literacy Agency (NALA), SOLAS, Education and Training Boards of Ireland
ISBN:
Good Practice in Integrated and Standalone Numeracy Provision at Levels 1-3
NALA, SOLAS and ETBI would like to acknowledge the immense work, collaboration and cooperation that went into all elements of this study and the production of this report on the Development of Good Practice in Integrated and Standalone Numeracy Provision at Levels 1-3.
NALA was commissioned to produce these guidelines and recommendations on numeracy on behalf of SOLAS and ETBI and engaged the expertise of Merrilyn Goos, Niamh O'Meara and Kathy O'Sullivan at University of Limerick and Mark Prendergast at University College Cork as partners in delivering the resulting reports.
We are grateful to the Chief Executives, Directors of Further Education and Training, Adult Education Organisers, Adult Literacy Organisers, Tutors, Resource Workers, Coordinators and all other staff in ETBs for facilitating and/or taking part in the research process. We would like to acknowledge the generosity of all those who participated in this research.
Their willingness to engage and rich contributions are a testament to their professionalism and commitment to best practice. In particular, we would like to thank the designated ETB respondents who completed the online survey, the ETB Adult Literacy Services and adult literacy learners who participated in focus groups and interviews
The aim of this research was to capture and document standalone and integrated adult numeracy activity in the Education and Training Board (ETB) context, in order to develop good practice guidelines and inform future development of adult numeracy policy and practice.