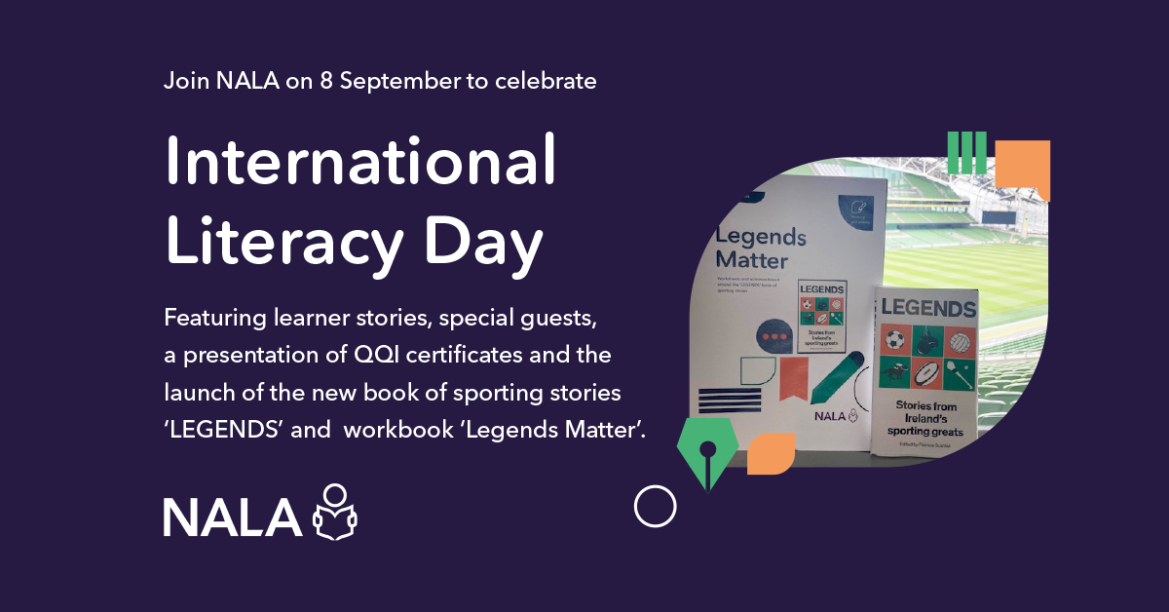 Registration is now closed. If you have any queries about registration email Aoife at amulhall@nala.ie
To celebrate International Literacy Day on Thursday 8 September the National Adult Literacy Agency (NALA) is hosting a special event that will feature learner stories, special guests and a presentation ceremony of QQI certificates to learners. We will also launch our new book and workbook called 'LEGENDS' and 'Legends Matter'.
'LEGENDS' features short stories from the lives of 15 of Ireland's greatest sports stars and is written in plain English, especially for adult learners. The book will be given to learners in Education and Training Boards (ETBs) and available in libraries nationwide. It was jointly funded by the Department of Rural and Community Development, and the Department for Further and Higher Education, Research, Innovation and Science.
Date: Thursday 8 September
Time: 11.00am – 12.30pm
Venue: Aviva Stadium
Programme:
* Patricia Scanlan, author and editor of 'LEGENDS', will talk about the genesis of this book for adult learners and her work as a literacy tutor
* Featured sport stars will talk about their involvement in 'LEGENDS'
* Learners will read their own stories
* There will be a presentation of QQI awards to learners
* Reception
Please register by clicking on the link below.