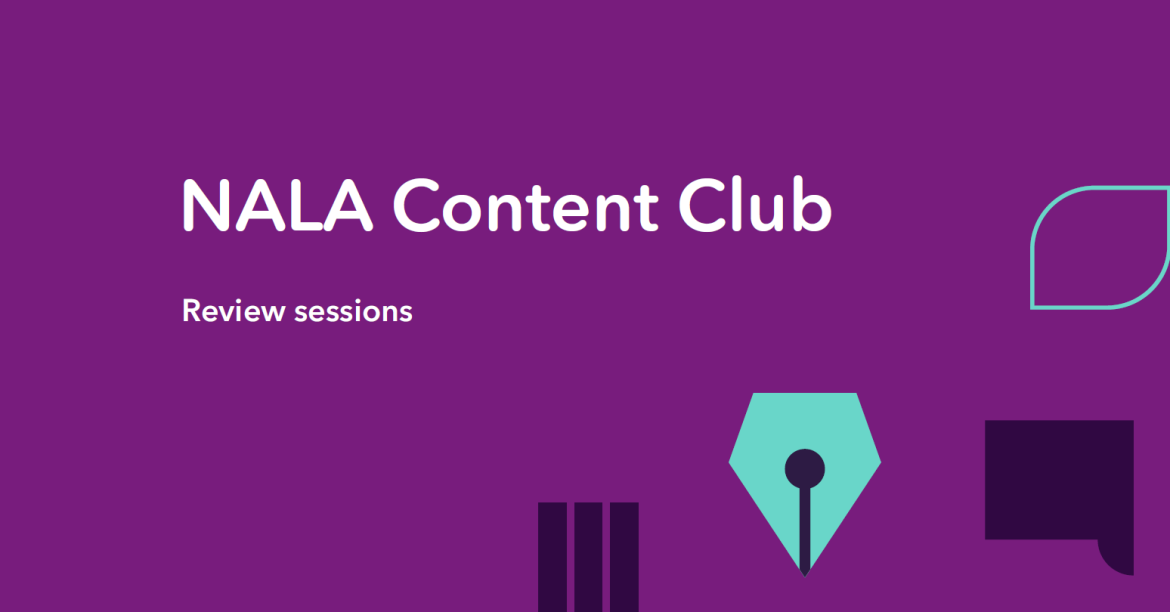 Get professional help on your writing from NALA editors and your peers
To help share best practice and to sharpen our plain English skills, we are leading two Content Club Review Sessions on the morning of 21 April.
The idea of the Content Club Review Session is to get people who write for the public to read each other's material in a constructive and insightful way and share their thoughts. It's a type of user testing and peer mentoring facilitated by the plain English team in the National Adult Literacy Agency (NALA).
It can be of benefit to anyone who is currently writing or reviewing a webpage, leaflet, section of a report, app, patient information leaflet or other text.
By discussing how we write and reviewing examples, we can better understand what is difficult for the reader and gain more confidence using plain English techniques like:
* the active voice,
* being personal and direct,
* using bullets, headings and white space and
* clear design.
In the discipline of content design, review sessions like this are often called 'content critiques' or 'crits'.
What do I have to do as a participant?
You will be part of a group of 15 and you will review two webpages or other documents in light of:
* any specific feedback the content owner is asking for.
We ask that participants be people who write information for the public in their organisation
You'll get the chance to practice review skills, improve a peer's work and network with like-minded professionals.
Who will lead the review sessions?
Sean Driver is NALA's Plain English Editor and Trainer and he has experience leading review sessions with Citizens Information, The Central Statistics Office and with training clients like Bank of Ireland, Zurich Insurance and many others.
How does it work?
A participant will share a document they're working on. Participants will be given time to read it and make notes and we'll discuss it in breakout rooms and then have a group feedback as a whole.
In each 75-minute session, two participants will get the chance to have their material reviewed and the other participants get to sharpen their skills.
Part 1: Introductions by participants about themselves and their work
Part 2: Setting Rules for Content Critique based on Content Design London
Part 3: Participant One Crit (critique)
Part 4: Participant Two Crit (critique)
Sean will then be in touch with more information and to ask if you would like to be present your work for review. Unfortunately, we can only do two to be thorough and Sean will select the most appropriate examples for the session.
More events
Join the NALA Plain English Network for plain English news and events.
How to register
Book your place below for the the 11.30am – 12.45pm session.
Or, register for the 10.00am – 11.15am session here