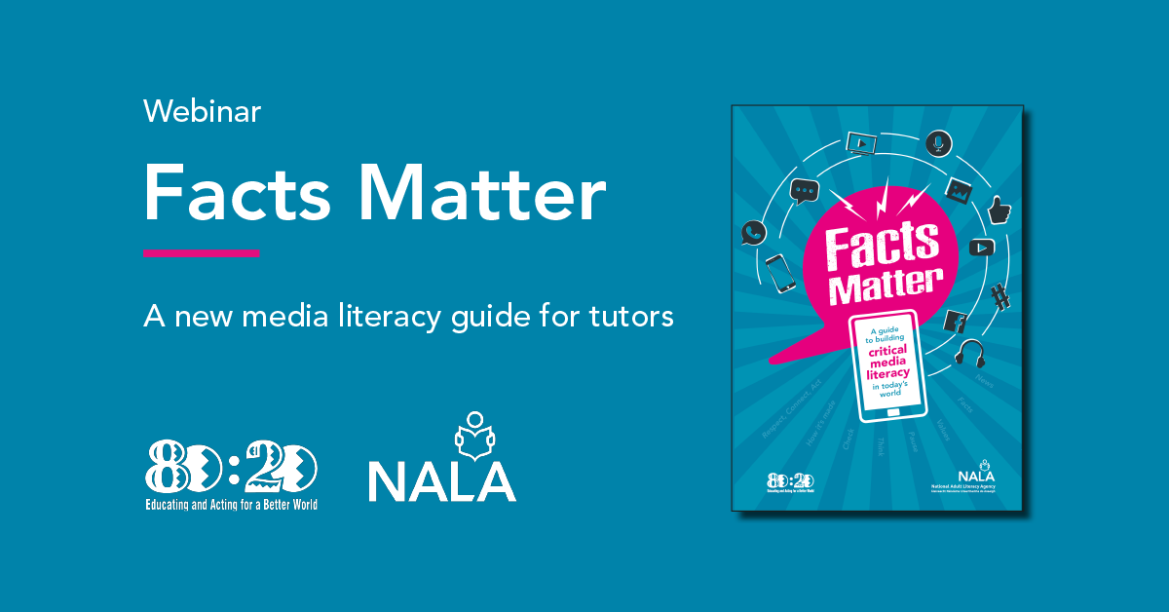 We are bombarded everyday by information, a lot of which is false or misleading – this is often called an 'infodemic'.
We require skills to work out if what we are reading or hearing is true or false. This means taking the time to find reliable and accurate information, question it and ask yourself 'what can I do?'
On Tuesday 28 September at 1pm, NALA is delighted to launch a new tutor guide at this webinar, with our partners '80:20 Educating and Acting for a Better World'.
Join Tony Daly from 80:20 and Helen Ryan from NALA to hear about developing the guide and also hear from:
* Catherine Devlin, Adult Literacy Ambassador, talking about why facts matter
* Orla Ryan from the journal.ie talking about how we can fight back against misinformation
* Joan Fitzpatrick, Adult Literacy practitioner from Kildare and Wicklow Education and Training Board, talking about teaching and facilitating learning on media literacy
'Facts Matter' is an introductory guide for adult literacy and adult education practitioners who wish to build their students' knowledge, understanding, skills and confidence in critical thinking, media and digital literacy.
Irish Aid supported the development of this guide.
Once you register at the link below you will then receive an email from Zoom with a link to join the webinar on 28 September.