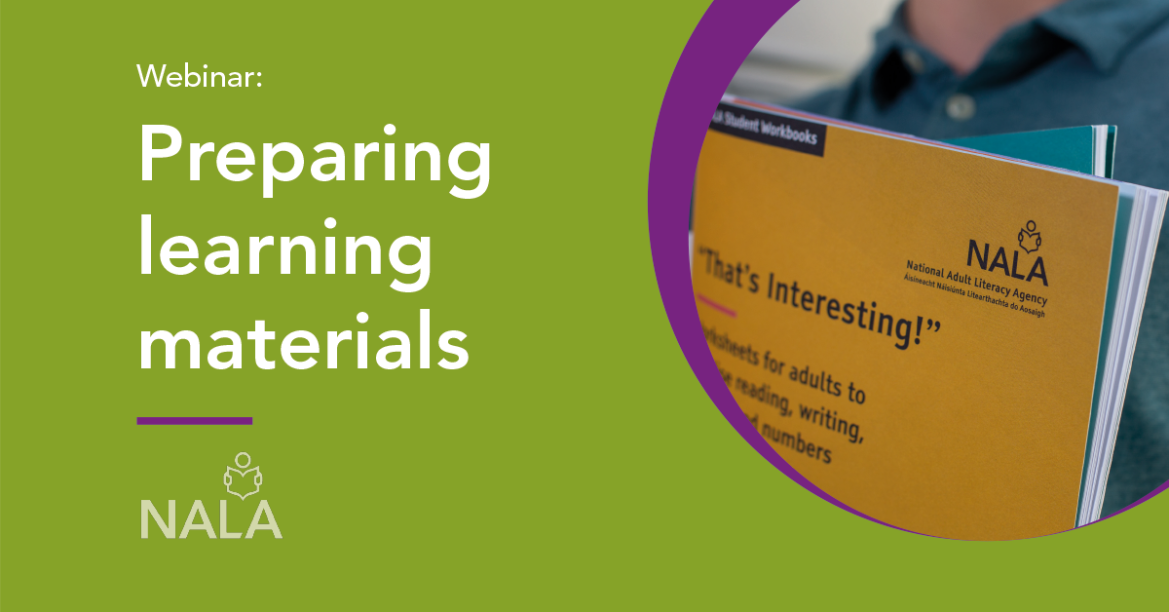 Literacy tutors often use worksheets and books as part of the teaching and learning process. Using everyday texts that the student is interested in works better for learning as we engage more with text that is relevant and interesting.
To support this work,  the National Adult Literacy Agency (NALA) has developed guidelines and practical ideas for creating, writing and designing learning materials for adult literacy, numeracy and digital literacy work.
Join our Preparing Learning Materials webinar on Wednesday 6 October at 1pm where we will share some useful resources and training.
Gillian Harris from NALA will tell you about new Preparing Learning Materials online course for tutors
Pauline Hensey from NALA's Tutoring Service will introduce the updated tutor guide on Preparing Learning Materials.
We will also share three new student workbooks with practical advice on how you can create your own resources.
Margaret Murray from NALA will tell you about the development of Digital Matters, a guide to technology and "That's Interesting!", a collection of worksheets.
Helen Ryan from NALA, will share Voices Matter, a workbook companion to the VOICES book of short stories.
Once you register at the link below you will then receive an email from Zoom with a link to join the webinar on 6 October.