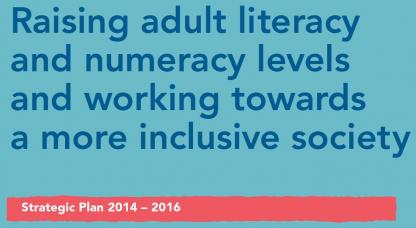 We are delighted to bring you our new strategic plan for 2014-2016. In it we set out how we aim to improve outcomes for adults with literacy and numeracy difficulties and highlight the value of improved literacy and numeracy skills to Ireland's social and economic development. We hope to will achieve this by working with three groups of people: policy makers, practitioners and the general public, including learners.
Our plan has three main objectives.
Objective1: Support implementation of policy
NALA will work with a range of policy makers concerned with the implementation of Government policy. This will include those responsible for the Further Education and Training Strategy, the National Literacy and Numeracy Strategy for Children and Young People, Pathways to Work, Healthy Ireland – the new Department of Health framework – and Putting People First, as well as the Public Libraries Strategy.
Objective 2: Improve quality of teaching, learning and information provision
NALA will work with the range of practitioners concerned with the policies listed in Objective 1. We will provide support to improve the quality of teaching and learning. These will include supplying relevant learning content and information on new and proven teaching and learning approaches and methods.
Objective 3: Build awareness of literacy and numeracy
NALA will work with the general public, including learners, to build awareness of the importance of having strong literacy and numeracy skills to more effectively manage their employment, health and family and community life.
We hope you enjoy reading this plan here.