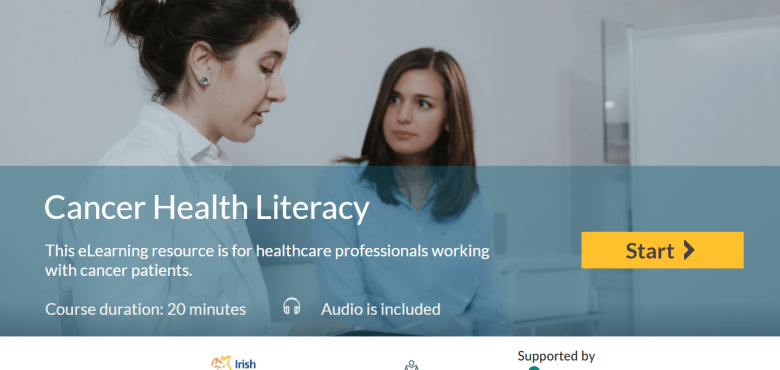 The Irish Cancer Society and the National Adult Literacy Agency (NALA) have joined forces to launch a short eLearning course for healthcare professionals that explores the benefits of good health literacy practice in cancer care. MSD Ireland funded the course.
View the Irish Cancer Society and NALA health literacy eLearning course
Please note: The course takes about 20 minutes to complete. We recommend you complete it in one sitting as your progress does not save.
Health literacy and cancer care
Health literacy is an essential part of quality, patient-centred care, with important implications for patients' experiences and outcomes. Ireland's recent Health Literacy Survey shows that nearly 1 in 3 people in Ireland have limited health literacy. This means a large number of patients may struggle with reading, understanding and using health information to manage their treatment and care.
Cancer health literacy poses a particular set of challenges compared to other types of health literacy. Cancer patients' decisions and treatment schedules are often complex and timely decision-making can be critical. The distress associated with a cancer diagnosis can further impact patients' ability to remember, understand and apply information they need to effectively manage their treatment and care.
In 2021, Irish Cancer Society Support Line and Daffodil Centre nurses received almost 7,500 enquiries relating to cancer treatments and side-effects; over 4,000 on managing symptoms and 1,600 on prognosis  (likely or expected development of an illness).
Promoting health literacy-friendly practice
While many efforts to address health literacy needs have focused on improving patient skills, healthcare professionals have an important role to play. Clear, efficient communication helps cancer patients to understand and make decisions about their treatment and to manage side-effects.
Using health-literacy friendly approaches and tips can benefit both patients and practitioners by:
Making interactions more effective;
Empowering patients to actively participate in their care;
Saving time and costs; and
Reducing avoidable service use and hospitalisations.
The new self-directed eLearning course aims to:
Raise awareness of how health literacy issues can affect cancer patients
Give an overview of health literacy-friendly communication approaches and tips. These include the universal precautions approach to health literacy, teachback and tips for writing plain language patient information.
Irish Cancer Society Education and Engagement manager Aoife McNamara says:
"We are delighted to have partnered with NALA and MSD Ireland on this course, which highlights cancer literacy issues experienced by patients and supports busy healthcare professionals to reduce the impact of these issues."
Colleen Dube, Chief Executive Officer at NALA commented:
"NALA is thrilled to have partnered with Irish Cancer Society and MSD Ireland on this course. Healthcare professionals play a vital role in supporting people with health literacy needs. We hope the practical tips in this new course like using plain language and encouraging questions will be mutually beneficial to healthcare professionals and patients to ensure more effective communication, understanding and management of treatment and outcomes."
View the Irish Cancer Society and NALA health literacy eLearning course
For further information, please contact:
Aoife Mulhall, Communications Officer, NALA: amulhall@nala.ie Phone: 01 412 7916
Background to the eLearning course
The eLearning course was developed after NALA and Irish Cancer Society surveyed cancer nurses and patients in 2019. The cancer nurses identified the need for health literacy support, particularly audio-visual and training resources.
Irish Cancer Society
The Irish Cancer Society continues to support people affected by cancer. It is committed to raising awareness around health literacy difficulties and the impact these issues can have on cancer patients.
National Adult Literacy Agency (NALA)
NALA works to support adults with unmet literacy, numeracy and digital literacy needs to take part fully in society and to have access to learning opportunities that meet their needs.
MSD Ireland
MSD Ireland are committed to improving health literacy as part of their mission to save and improve lives. They are dedicated to helping patients understand their medical condition or disease, the reasons they are being treated, and the appropriate use of their medications and other treatments.