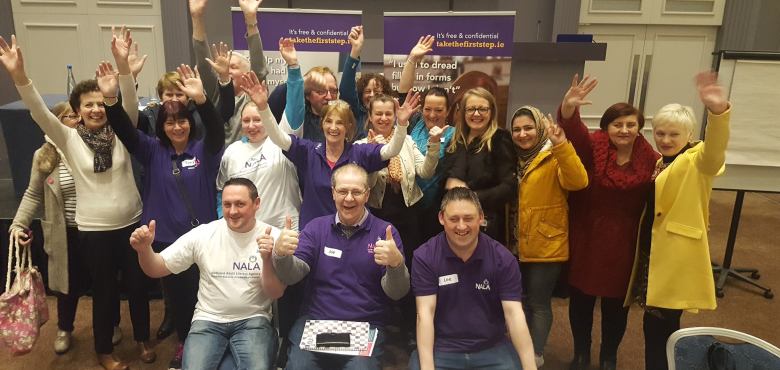 The National Adult Literacy Agency is hosting a celebratory event for learners on International Literacy Day, Thursday 8 September.
The event is being held in the Aviva Stadium in Dublin and will feature learner stories and poems, and culminates with a presentation ceremony of QQI Awards and Certificates to about fifty adult learners.
From all over Ireland, the learners are receiving an Award because they worked with tutors over the phone on NALA's tutoring service or they others used NALA's website 'Learn With NALA' to get their QQI Awards and Certification. Some learners used a combination of these services with the support of their tutor and education provider.
This echoes the UNESCO theme for International Literacy Day which is 'Transforming Literacy Learning Spaces'. The theme highlights how literacy learning is occurring beyond traditional 'education' spaces such as online, over the phone, in workplaces, communities, families and libraries.
Speaking before the event, NALA CEO Colleen Dube said:
"I would like to congratulate all the learners here today on your learning journey. Today is a day to celebrate your achievements with each other, your family, friends and tutors.  Choosing to learn or work towards an Award or Certification has its challenges and requires great commitment and perseverance. I commend you for all you have achieved. Remember this is just the start of your educational journey and there are lots of options to continue learning if you want to. I would also like to thank all the tutors here today for your work and dedication in supporting learners to achieve their goals."
In Ireland, there are 40,000 adults attending literacy courses in Education and Training Boards (ETBs) nationwide. NALA also supports literacy learning over the phone and online if people do not want to attend a course in person. See www.learnwithnala.ie for more information.
They are people who want to catch up on the skills they missed at school, parents who want to help children with their homework, workers who would like to go for promotion and those who would simply like to write an email. Whatever the reason, the benefits are always the same – people gain confidence and self-belief that has a transformative impact on their lives and those around them.
For information on free courses nationwide, Freephone NALA at 1800 20 20 65.
International Literacy Day
Since 1967, International Literacy Day has been celebrated around the world to remind the public of the importance of literacy as a human right.