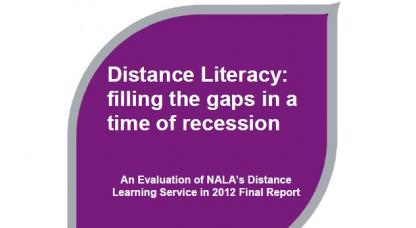 For over a decade NALA has been concerned with bringing learning opportunities closer to adults with literacy and numeracy needs. As part of this work we have used technology to overcome barriers to participation in learning through the creation of a Distance Learning Service (DLS), initially using the media of television and radio and more recently the internet. This work has been pioneering and as a result often challenging and at times contentious. It is why an evaluation of the work and its outcomes from the principal beneficiaries is so necessary.
Today we published an important evaluation of our Distance Learning Service in 2012. It sets out the context of adult literacy work in which NALA and the Distance Learning Service operates. What this tells us is that there is compelling international and national evidence for the use and promotion of distance learning for adult learners. The report then outlines the impact of using the DLS according to a sample of its beneficiaries. In addition to their specific and detailed accounts of what it has meant to them in terms of their family, career and education progression, there is also the quality standard that accreditation offers for those who follow that path.
In the five months that it has taken to complete this evaluation we have carried out in-depth interviews with many learners and staff involved in the National Adult Literacy Agency's (NALA) Distance Learning Service (DLS). We have benefitted from their honesty, commitment and enthusiasm and recognise and appreciate the expertise they have shared with us.
Literacy remains a challenging field of adult education where only a small fraction of those in need of learning options are engaged in provision. In the context of a severe economic recession the drive to present new learning solutions takes on an added urgency as a way of accessing and protecting employment. NALA's DLS is making a pioneering contribution to this quest for new approaches to literacy learning in an ever-changing economic and technological context.
We hope this report does justice to the ideas and recommendations of distance learners and staff and offers some contribution to ensuring the provision of adult literacy in Ireland continues to become more and more effective.