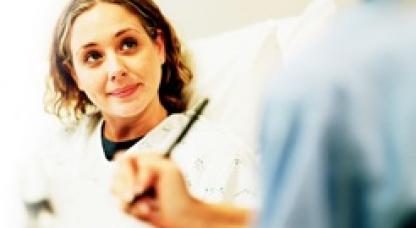 Healthcare professionals across the country are being called upon today to begin preparing their entries for the 2014 annual Crystal Clear MSD Health Literacy Awards ahead of the 7th of February closing date next year. Established in 2007, the Crystal Clear MSD Health Literacy Awards is the longest standing awards of its kind in Ireland which aim to recognise and reward excellence amongst those working in the health sector. This year we are delighted to announce the Healthy Ireland Programme as a new partner of the Crystal Clear Awards.
Welcoming the announcement Minister Alex White, TD, Minister of State for Primary Care commented. "Health literacy is a growing issue in Ireland highlighted by the recent EU Health Literacy Survey (2011) which showed that over 40% of Irish people have inadequate or problematic Health Literacy. We have prioritised Health Literacy in Theme 3 of the Healthy Ireland Framework and endorse initiatives such as the Crystal Clear Awards which are going to great lengths to help improve the health and wellbeing of people in Ireland."
The launch of the awards follows the recent publication of an OECD adult skills survey which reports that almost 18% or 1 in 6, of Irish adults are at below level 1 on a five level literacy scale. Also known as the Programme for the International Assessment of Adult Competencies (PIAAC), the report shows that 18% of Irish people have difficulty understanding basic written text. The findings also indicate that those with the lowest levels of health literacy are more likely to earn less, be unemployed, have low educational attainment levels and have poor health.
Inez Bailey, Director NALA, commented "The recent OECD adult skills survey challenges us to think about health literacy skills and the need for these skills to be developed and maintained throughout life. The Crystal Clear Awards gives health care professionals an opportunity to demonstrate their role in developing and implementing initiatives that are improving health literacy levels for their patients."
The 2014 awards ceremony in May will have a particular focus on Innovation both past and present and will, for the first time, display a visual showcase of the shortlisted entries alongside some of the most successful health literacy projects since the inception of the awards. A joint MSD/NALA health literacy initiative, the awards will this year also have an informal networking element offering health literacy advocates the opportunity to meet and learn from likeminded peers in the health sector.
Ciara O' Rourke, Director, Access Policy & Communications, MSD and Crystal Clear Awards judge said; "Every year the awards give us the chance to reward those healthcare professionals leading the way in Ireland's health literacy community. The awards provide a unique platform to recognise those who are proactively working to increase patients understanding around health issues and as a result are enabling patients to make informed choices and manage their own health."
The 2014 Crystal Clear MSD Health Literacy Award categories are;
Best Project in General Practice
Best Project in a Hospital
Best Health Communication through Journalism
Best Health Promotion Project
Best Project in the Community or in a Social Setting
Entries for the 2014 awards will be online only; for a full online entry form visit www.healthliteracy.ie.
Dr Laura Sahm, Lecturer in Clinical Pharmacy (UCC) and Consultant Research Pharmacist at Mercy University Hospital (MUH) and newly appointed Chairperson of the awards judging panel said, "This year the judges will be looking for initiatives that empower patients to make informed decisions about their health whether on a reactive or proactive basis. We encourage all HCP's from GPs to pharmacists to nurses to practice managers to submit their entries and showcase the innovative work they are doing"
Entries can be made by visiting www.healthliteracy.ie no later than 5pm on Friday the 7th of February 2014. CORP-1102802-0000 4
For more information on the Crystal Clear MSD Health Literacy Awards and details on the judging panel visit www.healthliteracy.ie
ENDS
Notes to the Editor:
References:
For more information on the OECD adult skills survey visit www.oecd.org/site/piaac
About Health Literacy
Health literacy involves a person having the skills to understand basic health information, whether they receive it in writing, in person or over the phone. It also involves a person having the knowledge to understand their treatment options and make informed decisions about their own health.
MSD in Ireland
MSD is a global healthcare leader working to help the world be well. MSD is known as Merck in the United States and Canada and MSD elsewhere. MSD employs over 2000 people directly in Ireland and provides an additional 9,000 indirect jobs through its operations at sites throughout Ireland. In the last five decades the company has invested over €2.2bn in Ireland. MSD is one of Ireland's leading exporters and contributes significantly towards making the pharmaceutical industry the country's leading export sector. MSD is a member of Guaranteed Irish and manufacturers or packages many of its leading products for the world market in Ireland.
Through our prescription medicines, vaccines, biologic therapies, and consumer care and animal health products, we work with customers and operate in more than 140 countries to deliver innovative health solutions. We also demonstrate our commitment to increasing access to healthcare through far-reaching policies, programs and partnerships. For more information, visit www.msd.ie.
National Adult Literacy Agency (NALA)
The National Adult Literacy Agency is an independent membership organisation, concerned with developing policy, advocacy, research and offering advisory services in adult literacy work in Ireland. NALA was established in 1980 and has campaigned since then for the recognition of, and responses to, the adult literacy issue in Ireland. According to the last international survey, one in six Irish adults has difficulties reading and understanding everyday texts. For example, they may not be able to fully understand health information or fill out forms.
With this in mind, a lot of NALA's work involves developing policies and practices that reduce literacy-related barriers to accessing information – specifically in public services and the health sector. This has involved working with a number of government departments and agencies in training staff in literacy awareness and producing publications in plain English. As its focus is on everyday language, plain English is a style of presenting information that helps someone understand it the first time they read or hear it. For more information, visit www.simplyput.ie