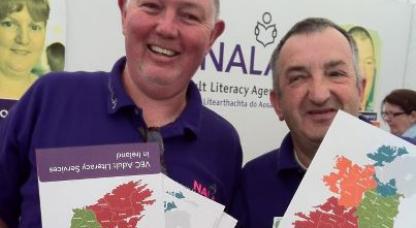 "You'll never look back," says students Kevin, Olive, Michael and Bridie who are attending the National Ploughing Championships in Wexford this week. They come here every year to meet and speak with the public about the benefits of brushing up on reading, writing and maths skills. They can be found at Duhallow/ Education Tent.
Kevin O'Duffy from Shannonbridge, Co. Offaly loves farming but as he says himself, 'Farming is only half of the work'. "The way things have gone there is a form coming through the letter box every second day," he says. Like many people in Ireland Kevin had difficulties with reading and writing. While he wanted to improve these skills he was very worried about going back to education.
"Crossing the door of the centre was very nerve wracking. But as soon as I got started and realised I wasn't alone, it was a huge weight off my shoulders and I've never looked back," he says. "That's why I'm here today at the National Ploughing Championships. I want to tell other people in the farming community who may have problems writing or using the computer that there's nothing to be worried about – going back to education was the best decision I ever made. Not only did I improve my writing skills but it gave me the confidence to do lots of other things. It's also great craic as you meet lots of other people in the same boat," says Kevin.
"The biggest fear I had was that that I was the only one with difficulties spelling and writing and that the course would be like school. It couldn't have been more different and I tell everyone I meet that there's no need to be worried about attending a course, it's the best decision I ever made," says Bridie Daly from Westmeath. Bridie fell behind at school because she had dyslexia that was undiagnosed. She decided to return to education as an adult to help her daughter  with her homework.
Michael Power from Co. Tipperary feels equally passionate about his journey back to education. "I want to take everyone by the hand and take them on the journey I've been on," he says. "It's been a rollercoaster. Several years ago I couldn't read bedtime stories to my kids but since going back to adult education I've done my leaving cert in English and Maths. My daughter even told me I was better at explaining algebra than her teachers!"
Similarly, four years ago, Olive Phelan joined an adult literacy class in her local VEC education centre in Dublin. "I was very nervous going back to education but it's the best decision I ever took," she says. "The tutors were absolutely brilliant, they made me feel so at ease and now I'm learning online," she says.
National Adult Literacy Awareness Week 24 – 28 September 2012
National Adult Literacy Awareness Week will be celebrated nationwide this week from Monday 24 to Friday 28 of September.  The aim of the week is to raise awareness of the literacy issue in Ireland and inform people about all the free VEC adult literacy courses to improve reading, writing and maths skills. Currently there are 55,000 people attending literacy and numeracy classes nationwide.
"Sometimes people are very worried about returning to education and hide their difficulties with reading and writing from their friends and family. However, this does not have to be the case and we would encourage anyone to pick up the phone, send us a text or drop into their local VEC Adult Literacy Centre this week," said Denise McBride from the National Adult Literacy Agency.
Freephone 1800 20 20 65 or Freetext 50050 for a free information pack.
Ends
For media queries please contact:
Denise McBride, National Adult Literacy Agency, 087 1168028
Clare McNally, National Adult Literacy Agency, 01 4127909 / 087 6486292