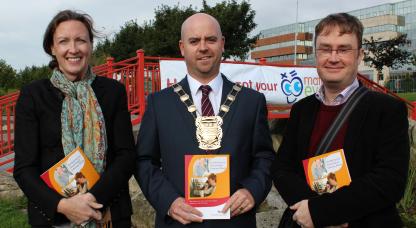 Thanks to everyone who made this a great National Adult Literacy Awareness Week.
Our closing event saw us back in Tallaght this morning at Sean Walsh Park where 65 children from Holy Child School in Killinarden took part in a Maths trail. A Maths trail is a bit like a treasure hunt, but all the questions are connected to patterns, shapes, numbers, counting, measurements and drawing.  Mayor Cathal King was on hand to get the kids started and judging by how many sweets were left we think they are definitely much better at maths than us!
The Mayor also launched our new Guidelines for Good Adult Literacy Work. These guidelines set out and explore the philosophies, principles and approaches that underpin good adult literacy work. They also outline the facilities, tuition options and management styles necessary for effective adult literacy development. They are a starting point and reference for those interested in developing good quality adult literacy provision in Ireland.
Throughout the week literacy was the talking point in both the national and regional media. Thanks again for supporting the week.
National Papers
Irish Independent
Irish Times
Irish Daily Mirror
Irish Examiner
National Radio
Today FM
Newstalk
RTE Radio 1
Regional Radio
FM104
Waterford Radio
Castlebar Radio
Cork Radio
Dublin City FM
Near FM
Tallaght Radio
Regional Papers
 Kildare Post, Page 4, 25-Sep-2012
Longford Leader, Page 8, 28-Sep-2012
Munster Express, Page 11, 28-Sep-2012
Westmeath Independent, Page 19, 29-Sep-2012
Bray People, Page 12, 26-Sep-2012
Mayo News, Page 23, 25-Sep-2012
Nationalist & Munster Advertiser, Page 7, 27-Sep-2012
Corkman – Avondhu, Page 21, 20-Sep-2012
Mallow Star, Page 13, 20-Sep-2012
Vale Star, Page 13, 20-Sep-2012
Tuam Herald, Page 16, 20-Sep-2012
Corkman, Page 21, 20-Sep-2012
Waterford News & Star, Page 69, 18-Sep-2012