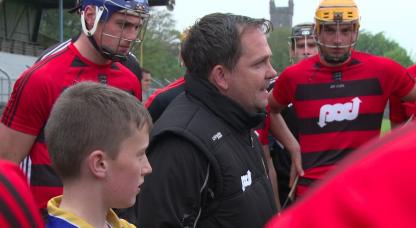 GAA Superstar Davy Fitzgerald helps the Sheedy Family from Clare complete a Commentary Challenge on RTÉ One's 'The Family Project'
The Family Project, now in its second series,follows families from around Ireland working together to overcome educational issues that affect their lives. Each week on RTÉ One, a different family sets out to tackle a problem that has a particular impact on them, whether it's Mum wanting to return to education, the kids finding reading difficult, or simply the parents not finding time to help with homework. They work together with educational experts and well-known mentors to find a way to overcome the problem, bringing them closer as a family.
In the third episode (Monday, 9th June, 7.30pm on RTÉ One), GAA superstar Davy Fitzgerald works with 12 year old Noah Sheedy to develop his confidence and focus.  Noah is about to start secondary school and has difficulty maintaining attention and seeing projects through to the end.
To combat this, Davy works with parents Pascal and Vanessa to devise a commentary challenge for Noah to complete, which will encourage him to stay focused and realise the importance of taking a project through the various stages to completion.  With a little guidance along the way from legendary broadcasters Micheal O'Muircheartaigh and Marty Morrissey, Noah must study the players and statistics and attempt to commentate on a live inter-county hurling match between Dublin and Clare.
With Davy's help, the family to pull together to help Noah prepare for his project, including Noah's Granddad, Séan, who offers first hand advice having commentated in local matches in the 1980's. Together, the family help Noah memorise the players, jot down nuggets of information that he can use in his commentary.
Speaking about the challenge Davy Fitzgerald said "I wanted to come up with something that would bring out his confidence and help him make the transition; something that would have him buzzing when the project was finished."
The Family Project featuring Davy Fitzgerald, Monday 9 June 2014, 7.30pm on RTÉ One
The Family Project
With children only spending about 15% of their time in school, The Family Project aims to show parents how to do more in the home to help their kids learn in fun and engaging ways.
In each episode, a celebrity mentor works with the family to complete a project that has special significance to them. By working together and being open to learning new things, the families achieve results they could never have imagined.
Each family is also guided by the input and teaching of Ireland's best education experts. These experts devise a learning activity and give the families the techniques and tools to achieve this. They show ways that they can all work together, and will set a target or goal that the family can realistically achieve. The experts are from the same area as the family, to show that local resources are available to everyone in Ireland.
Since 2000, the National Adult Literacy Agency (NALA) has been using the mass medium of television to highlight literacy issues, outline supports that are available, motivate people to return to education and provide opportunities for learning in the privacy of their own home.
NALA know that parents are the first and foremost educators of their children. Learning doesn't just happen in school. Children learn everyday – from the moment they are born they start to soak up things like a sponge – at home, out and about, even at bedtime. While all our research shows that parents know how important their role is in helping their children learn, very often they are stuck for time or easy access to resources. NALA has developed a website to help parents support their children's education called www.helpmykidlearn.ie. It includes general information, fun activities and useful tips. Help My Kid Learn is a website where people can see that supporting a child's literacy and numeracy development is a natural, easy and fun activity that can be integrated into any part of their day.
NALA also operate a Freephone support line 1800 20 20 65 that is staffed by experienced operators who can support people return to education in their local ETB (VEC) or match them with a distance education tutor.
ENDS
Wednesday, 
4th

 June 2014

For media queries please contact:

Melanie O'Connor                                                           Clare McNally

RTÉ TV Press and Publicity                                            National Adult Literacy Agency

01 208 2787                                                                         Phone: 01 412 7909 / 087 648 6292

Email: melanie.o'connor@rte.ie                                Email: cmcnally@nala.ie