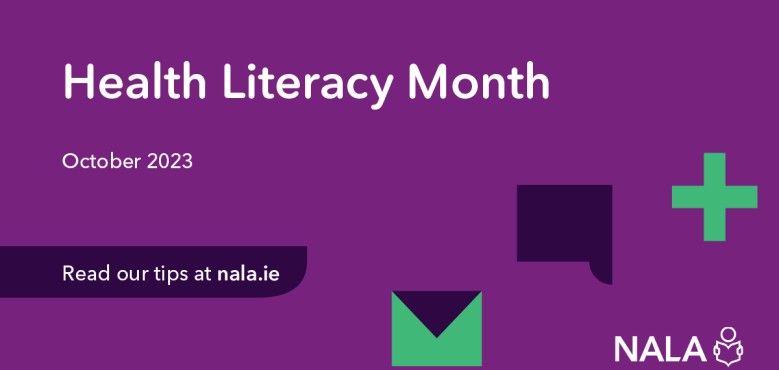 October marks Health Literacy Month and it is a great time to share some of the National Adult Literacy Agency (NALA) tips for health literacy.
Health literacy and numeracy has two elements:
People understand health information correctly and can make an informed decision
Health services communicate clearly and take account of possible health literacy and numeracy needs.
Tips for the public
I am prepared for meeting with health service providers.
I think about any concerns beforehand and write my questions down.
I ask questions.
When I don't understand a medical term or concept, I ask for it to be explained to me more simply
I check that I understand what has been said to me.
I repeat back to the healthcare provider what I think they said and what I must do.
I make sure I know the answers to these 3 questions before I leave the meeting:
What is my main problem?
What do I need to do?
Why is it important for me to do this?
Tips for the service
Communicate using plain English and follow design standards.
See www.nala.ie/plain-english for advice.
Give clear, easy to follow verbal information.
Explain any medical terminology.
The layout and signage is clear and easy to follow.
There is a map and floor plan at the main door. There are clear direction signs.
All staff are aware of literacy and numeracy needs and how to respond appropriately and sensitively.
For example, staff offer help with reading information and or filling in a form.
Check that people understand what you have said.
Ask people to repeat back to you:
What is their main problem?
What do they need to do?
Why it is important they need to do this?