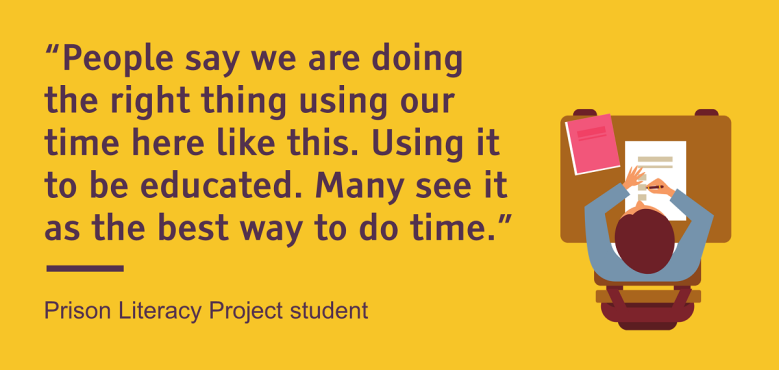 Peer-to-peer literacy projects are transforming the lives of people in Portlaoise Prison.
Forty-one per cent of incarcerated people in Ireland left school before the age of 14. As a result of educational and wider inequalities, the average literacy level of prisoners is much lower than the general population. During the last two years, the National Adult Literacy Agency (NALA) has been involved in several projects aimed at building the literacy skills and confidence of people who are imprisoned.
The first year
In February last year, following discussions between Laois and Offaly ETB, NALA and teachers from Portlaoise Prison's Education Unit, it was agreed that NALA would provide training sessions to support the development of a peer-to-peer literacy ambassador programme. The project involved the students raising awareness of literacy among their peers and promoting how literacy can help build confidence, support relationships, health and general feelings of wellbeing.
In summer 2019, the literacy ambassadors planned a project to promote the prison's Education Unit. They designed posters and flyers in plain English and displayed them on different floors, known as landings, throughout the prison. Promotional flyers were also distributed in prison laundry bags when they were collecting their laundry. One of the slogans the ambassadors used in the promotional materials was "We are here to help".
The literacy ambassadors said that they gained a lot through their participation in the programme. They felt it helped them share the love of learning they had developed during their time in prison.
Many spoke of feeling like this was there opportunity to give something back to their community and to support others to develop their literacy skills and confidence. Their positive experiences as literacy ambassadors inspired the group to become even more ambitious. Teachers in the Education Unit have encouraged them to consider training as peer-to-peer literacy tutors.
Progress in 2020
A year later, six men from the group are about to graduate as literacy tutors. Despite the summer of lockdown and many hours of isolation in their cells, they have kept their determination to finish their portfolios. They have successfully completed their certificate in the NALA/WIT Developing Literacies 1, a module of the level six Higher Certificate in Arts in Literacy Development.
In their own words
Feedback from the students who have taken part in the tutor training programme has been overwhelmingly positive. The participants call themselves 'The Peers' and they are known throughout the prison for helping to remove the stigma associated with literacy and going back to education. On the prison landings, it is now a good thing to be seen with books under your arm. The positive impact of 'The Peers' is confirmed by teachers from the Education Unit who say that the numbers of people turning up for support has increased.
Here's what some of the participants taking part in these prison literacy projects have to say:
"Others wouldn't have an opportunity to come back to education without the work we are doing here."
"Some people won't go to the prison's Education Unit to ask for help, but they will come to us."
"Us doing this work is breaking down the stigma about literacy."
"In the beginning, people see education as a quick way out of prison. They think 'I'm going to play that game!' But when they come to the Education Unit they see how it is here and they begin to enjoy it. It's time away from the negativity of the landings, it's completely different."
"People who stay on the landings need to take drugs to survive it, but education can be a way of stopping that."
"People say we are doing the right thing using our time here like this. Using it to be educated. Many see it as the best way to do time."
"For me tutoring has been an opportunity to sit with people and to create a friendship with someone."
For more information
To find out more about the prison literacy projects that NALA is involved in, please contact Ann Hegarty, NALA's Training Co-ordinator at ahegarty@nala.ie
Message from the Minister for Further and Higher Education, Research, Innovation and Science Simon Harris TD for the graduating students