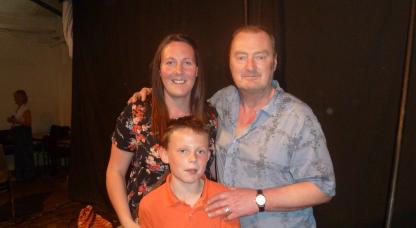 Catriona Pearl lives with her 2 year old daughter Aimee and her nine-year-old son Kieran in the beautiful village of Sixmilebridge , County Clare. Catriona had her suspicions about Kieran having some learning difficulties for the last few years. She got him assessed earlier this year and it was confirmed he had dyslexia. Dyslexia is a specific learning difficulty which makes it hard for some people to learn to read, write and spell correctly. It affects approximately one in every ten people in Ireland.
Jon Kenny – one half of the infamous D'Unbelievables, comedian, musician and actor has been living with dyslexia all his life. Like so many dyslexic people from his generation there would have been no support or understanding in his school system or in helping him deal with this diagnosis. "In my very early days in primary school there wasn't any great awareness of dyslexia but my mother knew there was something wrong, that it was more than I had a problem with spelling and reading. But you were basically put into a category and said 'well if you can't spell or you can't read, you're probably thick or stupid," says Jon.
Jon has his own coping mechanisms and still finds reading and writing difficult. He is keen to share his experience with Kieran and Catriona in an effort to embrace and move forward with this new diagnosis and look at the positive ways of living and dealing with this learning difficulty. Catriona also meets a local expert who listens and guides her on the next step for Kieran and the family.
Jon is eager to boost Kieran's self confidence. The challenge is that will perform a two man show in front of an audience of 100 people in a few short weeks. Kieran must help write the script, make the props and come up with the ideas. We follow the pair as a friendship forms and their creative challenge starts to take shape on what becomes a life changing experience for Kieran.
"I hope on this small journey that we have together he (Kieran) feels good and feels that we have achieved something from it because you're surrounded by the idea that you're not capable of doing certain things…but it's the whole area of just finding something that he feels confident about and enjoys doing and that he feels 'yeah, I've done that and I do it well'. I think that it's more important to dwell on that," says Jon about his hopes for the project and working with Kieran.
The Family Projectis on RTÉ ONE at 7.30pm every Monday.
The Family Project is a new six-part series that follows families from around Ireland working together to overcome educational issues that affect their lives. This series will show families how through simple changes in their day-to-day lives, by learning new skills and pushing themselves to new heights they can enrich their lives and the lives of their children by learning together.
Since 2000, the National Adult Literacy Agency (NALA) has been using the mass medium of television to highlight literacy issues, outline supports that are available, motivate people to return to education and provide opportunities for learning in the privacy of their own home.
NALA has also developed a website to help parents support their children's education called www.helpmykidlearn.ie. It includes general information, fun activities and useful tips. Help My Kid Learn is a website where people can see that supporting a child's literacy and numeracy development is a natural, easy and fun activity that can be integrated into any part of their day.