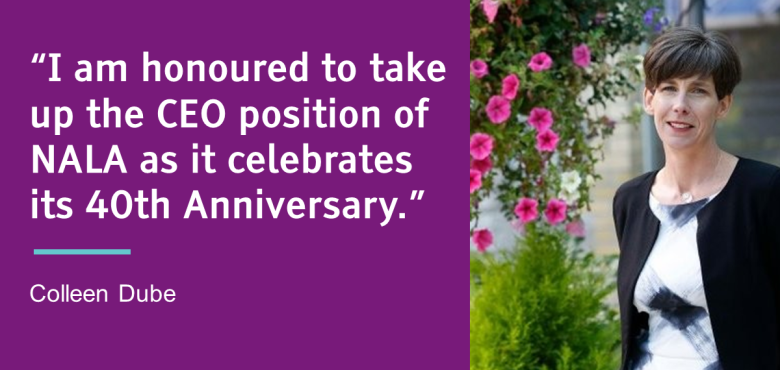 For over twenty years, Colleen has continuously contributed to Ireland's educational landscape.
Colleen Dube joins the National Adult Literacy Agency (NALA) from Uversity where she was Chief Executive Officer (CEO) from 2015-2020. Uversity is a Registered Charity that offered a Master of Arts in Creative Process until 2017 and from January 2018 awards Higher Education Scholarships to Adult Learners.
Colleen's motto is to make the seeming impossible possible. Colleen is committed to realising the potential of individuals and organisations.
Speaking about her appointment Colleen stated, "I am honoured to take up the CEO position of NALA as it celebrates its 40th Anniversary.  I am excited about collaborating with NALA's staff, members and stakeholders to build on NALA's impressive achievements, contribute to the Government's commitment to a 10 year literacy strategy and empower adults with life-long literacy skills."
Originally from Connecticut in the United States, Colleen holds a Bachelor of Arts from Drew University, a MPhil in Irish Studies from the National University of Ireland Galway and a MBA from the Smurfit School of Business. She also has Certificates in Adaptive Leadership and Professional Irish.
From 2006-2015 she was Executive Director of the Fulbright Commission and from 2001- 2006 a Liaison Officer for the RAPID programme administered by Pobal.  Earlier in her career she was Curator with the National Museum of Ireland and European funded Project Manager.