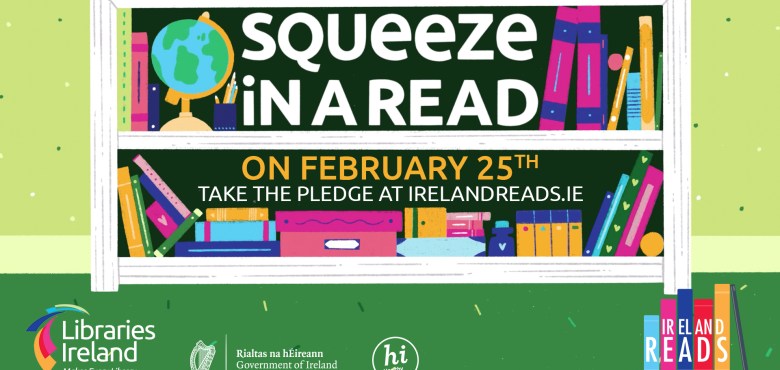 The National Adult Literacy Agency (NALA) is delighted to be involved in the Ireland Reads campaign again this year. Ireland Reads is a campaign to get the whole country reading this month in the lead up to a national day of reading on Friday 25 February. Irish libraries have teamed up with publishers, booksellers, authors and others for the campaign which aims to celebrate reading and all the benefits it can have for wellbeing and enjoyment.
The campaign is asking everyone to 'squeeze in a read' on Friday, 25 February. It doesn't matter how long you read for or what you read, it doesn't matter whether you're an avid reader, a reluctant reader, a lapsed reader or a new reader, this campaign is for you.
The Ireland Reads campaign is a collaboration led by the Libraries Development Unit at the Local Government Management Agency, and part of the Healthy Ireland programme. As well as all public libraries, partners in the campaign include RTÉ Supporting the Arts, Bookselling Ireland, Publishing Ireland, Childrens Books Ireland, NALA, the Arts Council, and the National Library of Ireland.
Take the pledge to read at irelandreads.ie
Visit www.irelandreads.ie to pledge to read on 'Ireland Reads' Day, Friday 25 February, sign up for reading reminders, and check to see how much time has been pledged by the Irish public so far.
The Power of Words
There will also be a webinar on The Power of Words on Wednesday 23 February at 7pm. Find out more and register for the Power of words webinar.