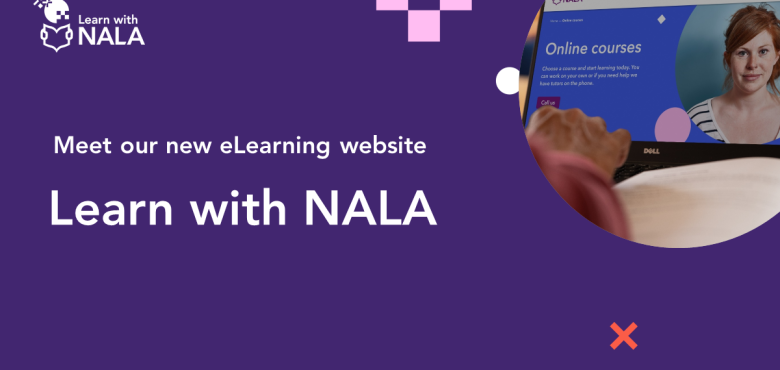 Today, Monday 31 January, the National Adult Literacy Agency (NALA) will launch its eLearning website, Learn with NALA. The website provides 50+ courses for free in subjects such as English, Maths, Computers and Digital Media. It is the only eLearning website in Ireland that provides national QQI accreditation at Levels 2 and 3 (Level 3 is the equivalent of a Junior Cert qualification). Learn with NALA is funded by SOLAS, the further education and training authority.
Meeting the needs of one in six adults
Learn with NALA was developed especially for the one in six adults in Ireland with literacy needs. According to the last OECD survey, over 500,000 adults have unmet literacy needs and significantly more have unmet numeracy needs. This prevents them from doing things that many of us take for granted, such as helping kids with homework, going for a promotion or sending an email. NALA's eLearning website allows people to learn and improve these skills online and get a qualification if they want to.
"Since NALA was set up in 1980, we have constantly looked at ways of improving access to education for adults.  These include the time and location of a course which may not suit because of family or work commitments. Over the years NALA innovatively delivered teaching and learning through radio programmes and 13 television series.  More recently we began offering telephone tuition and online learning to those who want to learn at home. Learn with NALA is our latest offering that we have no doubt will continue to provides adults with a unique opportunity to access quality learning, work towards learning new skills and get certification," said Colleen Dube, NALA CEO.
Providing an alternative to class-based learning
Most adults with unmet literacy needs can read a little but are reluctant to get involved in anything that might expose their needs. Many are early school leavers or had a negative experience of school and associate returning to learning with that experience. The aim of NALA's eLearning website is to give people the opportunity to improve their literacy and numeracy for free, at a pace that suits them, in the privacy of their own home.
"NALA does a tremendous job helping those with unmet literacy needs carve a path to the future they want, and through the means that best suit them. I know too many people in Ireland have difficulty doing everyday tasks which involve reading and numbers. We want to ensure that every adult has the necessary skills to fully engage in society and realise their potential. This new website will be yet another valuable resource to provide support to people, and ultimately help them engage in society," said Simon Harris TD, Minister for Further and Higher Education, Research, Innovation and Skills.
Teaching support on the telephone
NALA also offers teaching support over the phone for anyone who can't use or access its eLearning website, or who needs support with the courses when using the website. NALA has several tutors who make and take calls in the mornings and evenings, covering only what people want to learn until they meet their goals.
Getting a qualification for what you already know
There are many people in Ireland who don't have any formal qualifications but have the knowledge associated with a qualification. Very often they don't have the time to go back to full-time education and do exams.  NALA's eLearning website can be used to get qualifications for what they already know – this is called Recognition of Prior Learning (RPL). It allows users to do an assessment of their knowledge at the beginning of a course, and if they have the skills and knowledge they can go to the end of the course and do a final assessment towards a QQI qualification. This is perfect for those who have gained knowledge and skills through work and life experiences as it allows them to get a qualification which can then be used as a stepping stone to further education and training or work opportunities.
"Today's launch of the online service Learn with NALA is another welcome step towards addressing Irish society's goals around literacy, which were set out in last year's Adult Literacy for Life (ALL) Strategy and are a key priority for the Government. An important target in the ALL Strategy is to reduce the number of adults in Ireland with unmet literacy needs from 18% to 7% over the next 10 years. I have no doubt that this valuable project will support that shared aim. The flexible approach offered by Learn with NALA will suit the diverse and complex circumstances of each individual learner, who are at the heart of everything that NALA and SOLAS do. If you or a loved one are looking to improve your reading, writing or maths, this is a great first step," said Andrew Brownlee, SOLAS CEO.
 20 years of experience
NALA is the largest provider of online learning at Levels 2 and 3 in Ireland. Since 2008 it has been leading the way in distance learning – first through teaching programmes on the radio and TV and more recently through online and telephone learning. To date 12,000 people have received 42,000 national QQI qualifications with NALA.
Today we have also launched our research report Leading the way in online learning, which gives a history of NALA's eLearning provision since 2008.
Leading the way in online learning
The story of NALA's eLearning website from 2008 -2019
This research report tells you about WriteOn.ie, NALA's eLearning website that provided learning and certification for many adults from 2008 to 2019.
For Learn with NALA queries contact:
Elaine Cohalan, Innovation Manager, 01 412 7906 or 086 893 0914 or ecohalan@nala.ie
For media queries contact:
Clare McNally, NALA Communications Manager, 087 648 6292 or cmcnally@nala.ie
Aoife Mulhall, NALA Communications Officer, 01 412 7916 or amulhall@nala.ie
About NALA:
The National Adult Literacy Agency (NALA) is an independent charity committed to making sure people with literacy and numeracy needs can fully take part in society. We are involved in tutor training, developing teaching materials, policy making, research and awareness campaigns. We operate a distance learning service and provide tutor support over the phone and internet.
NALA is a registered company with limited and charitable status. We receive a grant of two million euro from SOLAS, the further education and training authority in Ireland, which enables us to staff a national office in Dublin and carry out our work. SOLAS also funds specific research and development work together with other government departments, state bodies, the European Union and the private sector.
See www.nala.ie for more information.