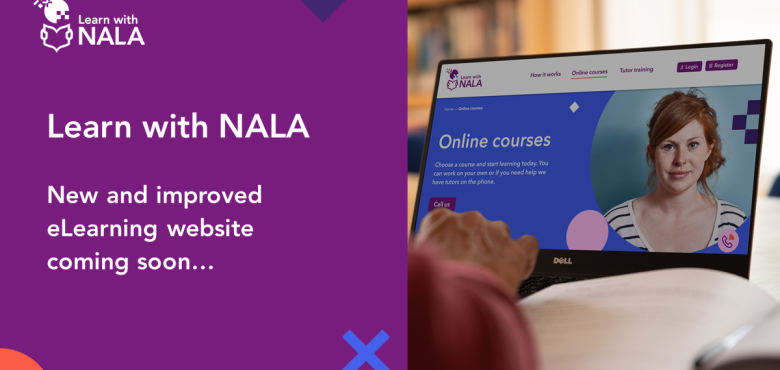 You may have already noticed some changes to the look of the Learn with NALA eLearning website learnwithnala.ie
We are currently making updates to our new website with our new Learn with NALA logo and using the website address: learnwithnala.ie
What has changed?
We have changed the layout and design of the website to improve the experience for all our website visitors and learners who use it.
This will help you find out more information about Learn with NALA, what to expect when you sign up and what courses are available.
What can I expect?
While the website is being set up, you will see a 'Maintenance mode' message on the screen.
During this time you will not be able to see the website, register as a new learner or register for new courses.
However, if you already have an account, you can still log on to the eLearning platform by going straight to our login page: https://learn.nala.ie/
What do I need to do?
We are just asking our website visitors to complete one quick task.
When the new website is activated, you may need to clear your internet browser cache (a block of memory on your computer for storing data from websites you have visited) in order to see the new website.
This is because your internet browser (the computer programme you use on your computer to access the internet) may have saved the old version of the website in its cache and it will continue to load this old version until the cache has been cleared.
How do I clear my internet browser cache:
Read the below instructions on clearing your browser cache on a desktop, depending on what internet browser you are using to visit the website:
You could also try one of these keyboard shortcuts for your desktop:
Chrome, Firefox, or Edge for Windows: Press buttons Ctrl+F5 at the same time on your computer keyboard
Chrome or Firefox for Mac: Press Press buttons Shift+Command+R at the same time on your computer keyboard
If you access the website from your phone or tablet, you may need to restart your device.
What if I have questions or need help?
The new website will work in the same way as the old one. If you experience any problems or notice anything not working, please let us know.
Learners and adult literacy centres can contact us on 1 800 20 20 65 or freephone@nala.ie for support in using the new website.
We hope you like it!