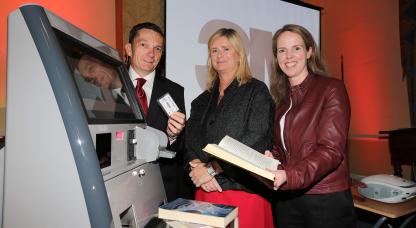 3M is a science-based technology company that produces thousands of products – from health care and highway safety to office products, abrasives and adhesives. In fact, you probably use one of their products everyday and don't even know it.
Here's a clue…back in 1968 one of their scientists invented very useful notepaper. The Post-it!
Recently 3M in Ireland got in touch to tell us they'd like to support literacy work as they provide libraries with many products. To mark the launch of one of their new self check-in kiosks for libraries, they have agreed to donate a percentage of every sale to NALA.
Great news for us and even better news for readers, as similar to our other sponsorships we will make sure that all funds that we receive will go directly to local literacy projects in Ireland.
Pictured at the launch of the new library kiosk in the National Library of Ireland was Paul Knowles, General Manager, 3M Ireland; Aisling Murphy, Key Account Manager, 3M Ireland; and Clare McNally, NALA.