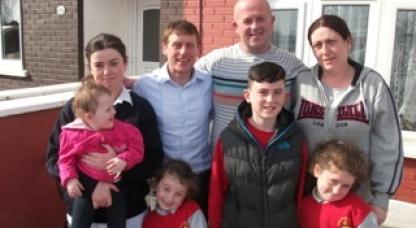 The Family Project is a new six-part series that follows families from around Ireland working together to overcome educational issues that affect their lives. Each week, a different family sets out to tackle a problem that has a particular impact on them, whether it's Dad wanting to return to education, the kids finding maths difficult, or simply the parents not finding time to help with homework. They work together with educational experts and well-known mentors to find a way to overcome the problem, bringing them closer as a family.
In the first episode, champion jockey Johnny Murtagh mentors Wes Doyle and Linda Farrell, parents of five children from Clondalkin. Wes (36) left school after finishing his Inter Cert and lately has been thinking about returning to education to improve his career prospects and set a good example for his children.  Wes is part of Clondalkin Equine Club – an organisation set up to manage the welfare of local horses.
"My passion in life is animals, especially horses, so I'd really like to work around horses, well I do it every day but I don't get paid for it," says Wes.
Like Wes, Johnny is also a father of five and left school before Inter Cert without completing formal education. "There are situations in my life now where I say I should have learnt a bit more, you know it's embarrassing at times having to ask people 'how do you spell that' or 'what do I write here' and the one regret I have is not giving school my best shot –I wish I did. So I won't be trying to preach to Wes or telling him in anyway what he should be doing but I'll just tell him what I did so hopefully he'll pick up something from that," says Johnny.
Throughout the programme Johnny is on hand to share his own experiences, and invites the family to join him at his stables showing Wes the possibilities of what can be achieved in spite of his challenges. "There's loads of help out there, you just need to be a little humble to ask for help. I'm gone past the stage of saying I know everything. So if I need help I ask for it," advises Johnny.
In the programme we see Wes take his first steps towards a return to education as he meets with an Adult Education Officer with County Dublin VEC to find out what he needs to do to go back to education.
"He's after opening up an awful lot more avenues for me. I went in there just thinking about English and Maths but the FETAC course in Stable Management he explained seems a lot more promising. The more qualifications you have, the better you get on and the more people will listen to you as well, it will make a major difference, it will help me," says Wes.
"I've learnt so much in the last couple of weeks, meeting Wes, meeting his family. I think everyone has grown out of this experience – we're miles away from each other in ways but we're very similar in other ways" says Johnny.
Linda and Wes also get professional advice on helping their children with school work and keeping them interested in education, through family games at home and after school activities.
"The attitude you have towards education is huge and if parents show the positives just like Wes is showing by going back to education, that's a fantastic role model for his kids to see and for younger people to see that education is valued," says the education expert.
The Family Project showcases the educational tools and techniques that are available to all families. Not only does it show how families can work together improving collective learning, but also how they can apply these methods to activities that involve the whole gang. With the passion and involvement of some of Ireland's most respected personalities, the series will both inspire and inform families on how easy it is to enrich their lives by learning together.
Since 2000, the National Adult Literacy Agency (NALA) has been using the mass medium of television to highlight literacy issues, outline supports that are available, motivate people to return to education and provide opportunities for learning in the privacy of their own home. Once again this year, NALA has a free distance education service to run alongside the new TV series. The Freephone support line is 1800 20 20 65 and is staffed by experienced operators who can identify learner's level and needs, and match them with a distance education tutor. This tutor will suggest and design an appropriate learning package and support the learners as they use the materials to improve their skills.
NALA has also developed a website to help parents support their children's education called www.helpmykidlearn.ie. It includes general information, fun activities and useful tips. Help My Kid Learn is a website where people can see that supporting a child's literacy and numeracy development is a natural, easy and fun activity that can be integrated into any part of their day.
So tune in every Monday night from Monday 20 May at 7.30pm on RTE ONE.
For media queries please contact:
Clare McNally
National Adult Literacy Agency
Phone: 01 4127909 / 087 6486292
Email: cmcnally@nala.ie