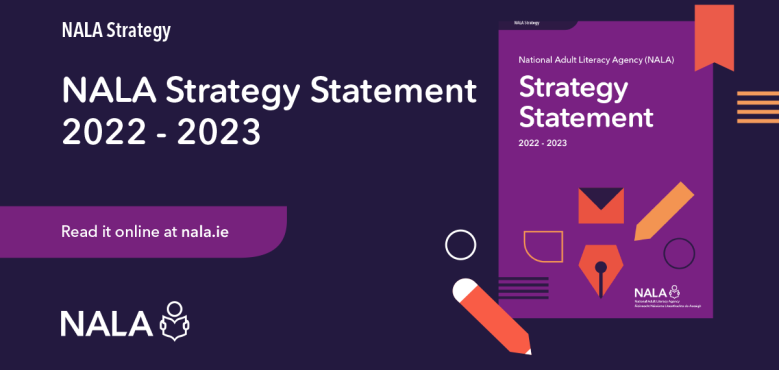 At its 28 September 2022 meeting, The National Adult Literacy Agency (NALA) Board agreed a 2022-2023 Strategy Statement that extends NALA's 2020-2022 Strategic Plan by one year.  This decision was taken following a midterm review of the 2020-2022 Strategic Plan
During the review, the Board acknowledged that:
Following consultation with NALA's Board, staff and stakeholders, NALA's Board agreed the following to guide our work for 2022 – 2023:
internal values of Respect, Equality and Fairness, Trust and Transparency;
the following purpose;
To support adults with unmet literacy, numeracy and digital needs who are the furthest behind by raising awareness of these needs and supporting delivery of literacy friendly services in Ireland
four Strategic objectives; and
a comprehensive work plan.
Several of the projects from the 2020 – 2022 Strategic Plan are continuing along with NALA's vision and mission.
Speaking about the Statement, NALA's Chairperson Margaret Kelly, noted:
"Once there is clarity on the implementation of the Adult Literacy for Life (ALL) Strategy, we will begin consultation on a new Strategic Plan. As always, we will strive to achieve the ambitions outlined in this Strategy Statement with NALA's characteristic energy, enthusiasm and excellence. We will publish an update on our 2022 activities in early 2023."
Read the NALA Strategy Statement 2022 – 2023