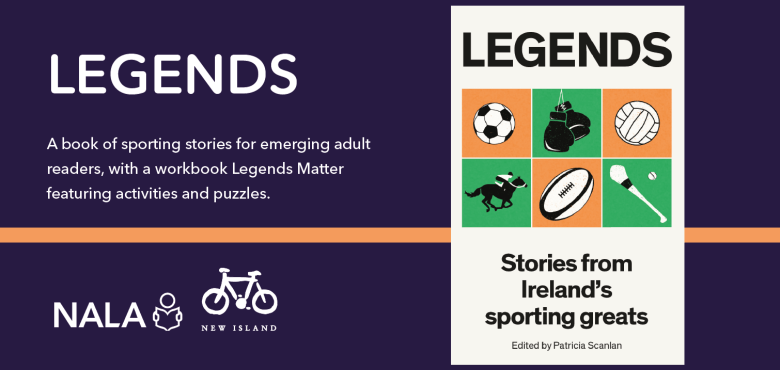 A new book, featuring stories from the lives of 15 of Ireland's great sport stars, will be launched on Thursday 8 September to celebrate International Literacy Day.
Called 'LEGENDS', the book includes stories from Gavin Bazunu, Ronnie Delany, Keith Earls, A.P. McCoy, Barry McGuigan, Philly McMahon, Valerie Mulcahy, Paul O'Connell, Bonnar Ó Loingsigh, Sonia O'Sullivan, Niall Quinn, Henry Shefflin, Rosemary Smith, Cora Staunton and Katie Taylor.
Thousands of copies of the book will be provided for free to adults who are attending courses to improve their reading and writing skills. The stories in 'LEGENDS' are edited in plain English to support anyone who isn't confident about reading and for some, it may be the first book they read. Currently there are 40,000 adults attending ETB literacy courses nationwide.
Order LEGENDS for your centre here
'LEGENDS' was developed by the National Adult Literacy Agency (NALA), Patricia Scanlan and New Island to encourage new and emerging readers who are enthusiastic and passionate about sport to 'have a go' at reading a book. Literacy issues impact people from all walks of life and NALA is currently working with sporting bodies to help reduce the stigma of having literacy needs and raise awareness of free services and courses nationwide. Thousands of copies of 'LEGENDS' will also be available to borrow from all libraries in Ireland.
"Reading might be one of life's great pleasures but for many it can feel like a daunting task. That's why today, on International Literacy Day, we are launching 'LEGENDS', a new easy-to-read non-fiction book for anyone who hasn't read a book in a long time. Many people are interested in sport and whether played on a pitch or enjoyed from the side-lines, it is a very important part of their lives. We know that we learn best when what we are learning reflects our interests, so we hope this book will give people the confidence to start reading and if they need any support we have lots of free options," said NALA CEO, Colleen Dube.
'LEGENDS' will be launched at a celebratory event for International Literacy Day at the Aviva Stadium in Dublin that includes talks from Patricia Scanlan, editor of Legends; Rosemary Smith, racing driver and featured writer; and adult learners, their families and tutors.
Patricia Scanlan, author and editor of 'LEGENDS' said:
"I am delighted to be involved in, and editor of, a new Open Door series, non-fiction book, LEGENDS. From my work in libraries years ago, I know there is a need for easy to read, interesting books, for adults returning to learning. For this non-fiction book, we chose the theme of sport and were delighted to get the support of 15 of Ireland's greatest sports stars. We hope the book will attract new emerging readers, who are interested in sport, and will promote and encourage reading."
Andrew Brownlee, CEO of SOLAS, said: "It has been quite a year for adult literacy – we are now at the first anniversary mark of the launch of the 10-year Adult Literacy for Life (ALL) Strategy, a cross-Government ambitious set of targets that focus on achieving an Ireland where every adult has the necessary literacy, numeracy and digital literacy to fully engage in society and realise their potential. NALA are leading the charge in this space, and I am delighted to be here today for the launch of 'LEGENDS' – a book and initiative that will no doubt help to support many learners around the country take that first step into improving their literacy skills."
'LEGENDS' is funded by the Department of Rural and Community Development, and the Department for Further and Higher Education, Research, Innovation and Science.
Literacy in Ireland
In Ireland, more than 500,000 people have unmet literacy and numeracy needs, and for example could have difficulty filling in forms, helping kids with homework or working out bills. Many more struggle with digital tasks. All of these are key life skills to be able to access information, make informed decisions and take part fully in society.
Literacy services in Ireland
In Ireland, there are 40,000 adults attending literacy courses in Education and Training Boards (ETBs) nationwide. NALA also supports literacy learning over the phone and online if people do not want to attend a course in person.
They are people who want to catch up on the skills they missed at school, parents who want to help children with their homework, workers who would like to go for promotion and those who would simply like to write an email. Whatever the reason, the benefits are always the same – people gain confidence and self-belief that has a transformative impact on their lives and those around them.
For information on free courses nationwide, Freephone NALA at 1800 20 20 65.
International Literacy Day
Since 1967, International Literacy Day has been celebrated around the world to remind the public of the importance of literacy as a human right.
This year, NALA will celebrate the day and month under the UNESCO theme 'Transforming Literacy Learning Spaces'. The theme highlights how literacy learning is occurring beyond traditional 'education' spaces such as in workplaces, communities, families and libraries.