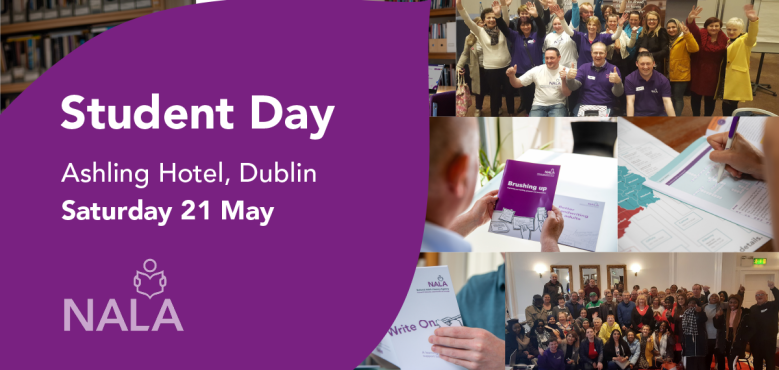 Join us at the NALA national Student Day in Dublin
The National Adult Literacy Agency (NALA) is delighted to announce our national Student Day for adult literacy, numeracy and digital literacy students. We are looking forward to seeing you.
Date and time: Saturday 21 May, 10am – 4pm (lunch included)
Location: Ashling Hotel Dublin, 10 – 13 Parkgate St, Stoneybatter, Dublin 8, D08 P38N. View location on Google maps.
This is a free event (with lunch) but you have to register. You will meet students from different centres, hear student speakers and go to interesting workshops!
Who is the Student Day for?
The NALA Student Day is for you if you are an adult who is:
Improving your literacy, numeracy or digital skills in an adult literacy centre, or as part of another programme (could be for example a Youthreach programme, a National Learning Network or a Community Training Centre).
Learning over the phone with a NALA tutor or using the Learn with NALA website.
Improving your English in an adult education centre, where English is not your first language.
Agenda
10.00 – 10.30      Registration and tea and coffee, free resource books from NALA
10.30 – 10.40     Welcome and introduction
10.45 – 11.30      Short talks from students and go to workshop room
11.30 – 1 pm       Morning workshop
1 – 2 pm             Lunch
2.00 – 3.30         Afternoon workshop
3.30 – 4 pm        Questions and answers with NALA
Workshops
You will be able to attend one workshop in the morning and a different one in the afternoon. We will fill the workshops on a first come, first served, basis. Please pick your workshops when registering below.
Being wise online. Workshop facilitator: Tony Daly from 80:20. Explore your thinking skills. Look at ways that we can better handle all online information. Hear up-to-date, real world examples of how information can mislead. Get ideas of how you can be responsible and wise online.
Plain English and the pandemic. Workshop facilitator: Sean Driver from NALA. In this workshop, you will hear what plain English is and the work of NALA's Plain English Service. You can also tell NALA about information you struggled with during the pandemic.
Creative writing. Workshop facilitator: Colm Keegan poet and published author. Colm will give tips for writing. If you have a poem or short story you may get to read it out. You will get to talk to other students about writing.
Tips for living well. Workshop facilitator: Maggie O'Sullivan Life Coach. Maggie will help you explore how to look after your mind and become more aware of your inner critic. Look after your body – sleep, food and comfort. Know habits that help and habits that don't!
Register online below. You can also register by downloading the form: Booking form – NALA Student Day 2022 and filling it in. Please email the completed form to Margaret: mmurray@nala.ie. If you have any questions please contact Margaret: 087 969 3696.