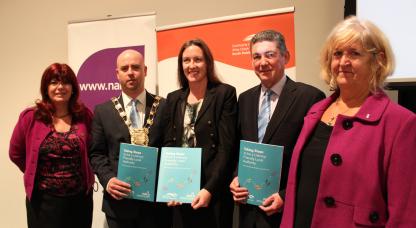 Tallaght has taken centre stage this week as they host a number of events to celebrate National Adult Literacy Awareness Week. Tallaght was chosen by the National Adult Literacy Agency (NALA) to highlight how integrating literacy-friendly policies can positively affect local communities by showcasing all the great work being done in the area.
On Monday 24 September, the Minister of State for Training and Skills, Ciarán Cannon, T.D. launched a new ESRI/ NALA research report on the impact of literacy difficulties in the Irish workplace and hear about best practice from the Skills for Work initiative in Tallaght. The event was hosted by County Dublin VEC and focused on the training needs of people in employment who have literacy and numeracy difficulties and what is needed to support their progression.
On Wednesday 26 September, Pat Rabbitte, T.D. Minister for Communications, Energy & Natural Resources spoke on the importance of literacy and communications at an event hosted by An Cosán that focussed on the importance of working on adult literacy in a community education setting. An Cosán showcased work on engaging with and empowering adult learners .
On Thursday 27 September, the new Mayor for South Dublin, Cathál King launched a short report outlining the approach and lessons from South Dublin County Council's (SDCC) Literacy Audit. SDCC are the first Irish local authority to set out to become 'literacy friendly' using NALA's Right from the Start approach.
And tomorrow, Friday 28 September, NALA, the Institute of Technology Tallaght and South Dublin County Council will run a 'Maths Eyes' trail for parents and children. The trail will involve taking parents and children through the park, where participants will try to develop their 'Maths eyes' by seeing shapes, patterns, numbers and angles that they come across. A Maths trail is a bit like a treasure hunt, but all the questions are connected to patterns, shapes, numbers, counting, measurements and drawing.  This trail will be available at different levels to ensure everyone has activities to do or problems to solve to match their knowledge and skills.
Venue: Seán Walsh Park, Tallaght. Time: 10.30 am to 12.00 noon (entrance to the sensory garden in the Seán Walsh Park).
National Adult Literacy Awareness Week is being celebrated nationwide between the 24 and 28 of September.  The aim of the week is to raise awareness of the literacy issue in Ireland and inform people about all the free courses to improve their reading, writing and maths skills that are available nationwide. Throughout the week members of the general public can drop into their local VEC Adult Literacy Centre to find out more about the learning services that are available to them.