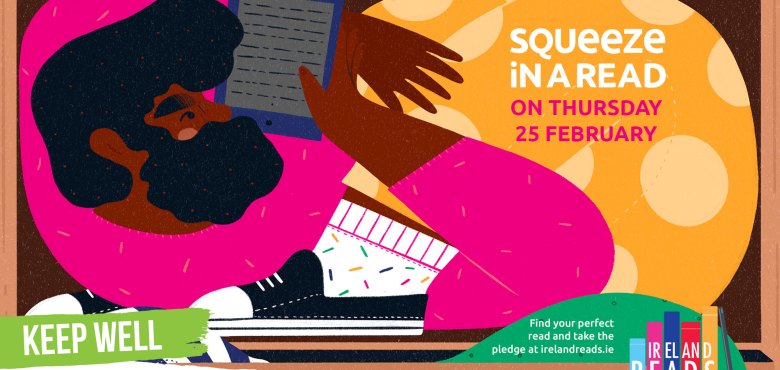 The National Adult Literacy Agency (NALA) is delighted to be a partner of Ireland Reads Day today, 25 February.
So far, almost 500,000 minutes of reading have been pledged for the national reading day, organised by libraries nationwide as part of the Keep Well campaign.
The Ireland Reads campaign encourages everyone to #squeezeinaread and get stuck into a book and read for pleasure and wellbeing during Covid-19.
How you can get involved
A new website www.irelandreads.ie has been set up where people can pledge to read and get a book recommendation suited to their interests and the time they have available. There are more than 800 recommendations from librarians all around the country. A website user can simply enter their favourite type of book and how long they would like to read each day and the website will offer the perfect book suggestion and work out how long it will take to complete – a couch to 5k for books!
Visit the Ireland Reads website
Watch our Reading Matters webinar
NALA also hosted a webinar where we discussed why reading matters, chaired by Martina Devlin, writer and journalist. We were joined by Dr. Sabina Brennan, Neuroscientist and psychologist, Michael Duffy, adult literacy ambassador,  John Shortall, from Carlow Libraries and Sarah Webb, writer and book champion. You can watch the webinar back below.
Campaign partners and libraries all over the country have been running 'Ireland Reads' initiatives and events throughout February in the build up to the day.
Speaking ahead of Ireland Reads Day, broadcaster and Ireland Reads ambassador Rick O'Shea said: "Ireland Reads Day is a brilliant opportunity for people of all ages to take some time for themselves, discover or re-discover the benefits of reading, and to shout about what they love to read!
While libraries are not currently open for browsing or borrowing due to Covid restrictions, library members can use the library Borrowbox service online and choose from more than 44,000 eBooks and 33,000 eAudiobooks.
Need to improve your reading, writing or maths? NALA can help.
If you need help with reading, writing, maths or digital skills, we can help.
Call NALA on Freephone 1800 202065 or text LEARN to 50050. We are open from 9.30 am to 5 pm, Monday – Friday.
NALA can help with:
Reading, writing and spelling
Brushing up on maths
Using technology
Understanding health information
Helping kids with homework
We will talk to you about your learning options and refer you to your local Education and Training Board. You can also study online or work with a tutor over the phone.
It's free and you decide what, where and how you want to learn.