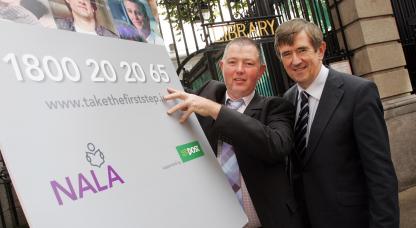 The Better Together Business Award is given to outstanding companies in Ireland that support good causes. And here in the National Adult Literacy Agency we think An Post deserve this award because quite simply, they've been outstanding.
For 6 years, An Post has funded a TV advertising campaign to encourage those with literacy difficulties to take those difficult first steps back to adult education. Since then we have received an amazing 20,000 calls to our freephone which we have referred to local VEC/ ETB adult education service nationwide.
Why did An Post get involved?
Before embarking on the development of the advertising campaign An Post invested significant resources in determining how the company might add value to the good work already being done by so many working in adult literacy provision. From their engagement with NALA, Adult Literacy tutors and students over a period of time, the need for a national initiative to facilitate public awareness, understanding and encouragement became obvious.
NALA research shows that there are a number of barriers to participation in literacy tuition. This includes the fear that exists for some people about returning to education to develop their literacy. Often they had a negative experience of school in the past and associate returning to learning with that experience. There is also a stigma attached to having literacy and numeracy difficulties – people feel too embarrassed to return to learning and go to great extremes to hide their difficulties from their friends and family.
Following this consultation, An Post developed and funded a number of TV, cinema & radio advertisements to encourage those with literacy and numeracy difficulties to take those difficult first steps through contacting the NALA freephone support line.
The TV and cinema advertisements profile individuals who have addressed their literacy difficulty and they aim to encourage others with literacy difficulties to take the first step and reap the rewards by contacting NALA. The ads focus on the benefits of returning to further education, as well as demonstrating that this issue is not confined to any particular demographic segment. An Post later developed a series of radio advertisements 'words and numbers' to accompany the campaign.
Since the advertisements were first broadcast in September 2007 until the most recent new campaign in September 2013, NALA has recorded over 20,000 calls to its freephone support line. The calls are mainly from adults who have seen the An Post advertisements and want to find out how they can improve their reading, writing or numeracy skills. NALA has also received calls from friends and family members who are ringing on behalf of an adult who has literacy difficulties and from people who want to volunteer as literacy tutors.
During the course of the campaign, the majority of callers have been referred to local VEC Adult Literacy Services for one-to-one or group tuition. NALA has also posted hundreds of distance education books and educational DVDs to callers who prefer to learn in the comfort of their own home. A complementary, information website www.takethefirststep.ie has been inundated with hits during the course of the campaign.
Ongoing feedback from Adult Literacy Organisers nationwide has been very positive with some citing the new advertisements as a great medium for removing the stigma and 'normalising' the literacy issue among the general public. Many Adult Literacy Organisers have also noticed a significant increase in adults enquiring about literacy services, with more 'hard-to-reach' males enrolling in one-to-one tuition.
Recent feedback from adults who called the NALA freephone support line show that the advertising campaign acted as a trigger to encourage them to make the call. They also said they were relieved to know others had a similar problem and to know that help is available.
Importantly the advertising campaign has been very well received by the Department of Education and the Minister for Life Long Learning who has congratulated An Post on this initiative. The ad campaign has also been showcased internationally within the '5 country network on basic skills' and at a 2008 UNESCO Conference on Adult Education.