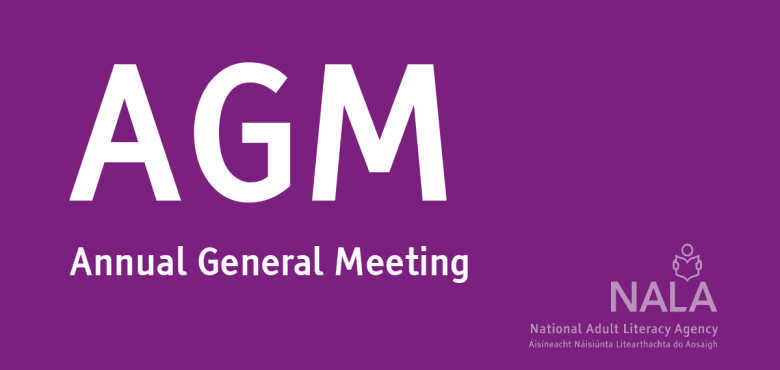 National Adult Literacy Agency (NALA) Annual General Meeting 2021
Online via Zoom: Saturday 24 April 2021, 11am – 12pm
Registration for the Annual General Meeting (AGM) is now closed. If you have any queries about your registration please email mmurray@nala.ie
The National Adult Literacy Agency (NALA) would like to invite all members to attend our 2021 Annual General Meeting (AGM). In light of the current COVID-19 public health regulations, the AGM will be held via Zoom at 11 am on Saturday 24 April 2021. We do hope that you can join us.
We are pleased to announce that Minister for Further and Higher Education, Research, Innovation and Science, Simon Harris TD, will be joining us as keynote speaker to outline the work of the department on the new 10-year strategy for adult literacy, numeracy and digital literacy.
The AGM is our most important event for you as a member. You get the opportunity to catch up on everything that is happening in NALA including our submission to the 10-year strategy for literacy, numeracy and digital literacy. You can read NALA's submission here
Please find below important documents related to our AGM:
Download AGM Documents:
Information for Members:
Proposed changes to NALA's Constitution and Memorandum of Association:
Proposed Procedural Rules:
NALA Annual Report and Financial Statements:
What members need to do to take part on the day
To take part at the AGM, please read all the steps below and see which ones you need to take.
Step 1: Check you are a current NALA member.
Log onto your membership account on NALA's website here.
You need to have been a current member of NALA by 24 March to take part in any voting at the AGM however if you are not a current member you are still welcome to attend.
Step 2: Register for the AGM
You need to do this to get a link to the meeting no later than 5pm on Monday 19 April.
If you cannot attend the meeting, you can have someone else attend / vote for you. This is known as a Proxy.
If you cannot attend and would like someone else to attend and vote for you, please after 24 March, get a Proxy Form here which will be available on this page, fill it in and return it to us by 11am on 22 April
Do you have a question / need help or documents?
If you have a question, need help or want documents posted to you, please contact Margaret Murray, NALA Student and Membership Officer. Margaret's phone number is: 01 412 7928 or you can email Margaret at mmurray@nala.ie
Registration for the Annual General Meeting (AGM) is now closed. If you have any queries about your registration please email mmurray@nala.ie