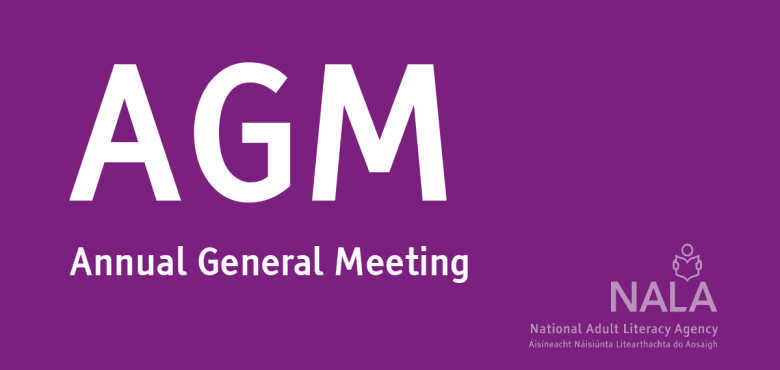 National Adult Literacy Agency (NALA) Annual General Meeting 2022
Online through Zoom: Saturday 30 April 2022, 11am – 1pm
Registration for the National Adult Literacy Agency (NALA) Annual General Meeting (AGM) is now closed. 
If you have any queries about registration please contact Margaret Murray NALA Student and Membership Officer on 01 412 7928 or email mmurray@nala.ie
We are delighted to invite you to our 2022 Annual General Meeting (AGM).  It is taking place online on Saturday 30 April 2022 at 11am and we hope you can join us.
2021 was another rollercoaster year for us all, but with your support, we achieved a long-held ambition to get a new 10-year adult literacy, numeracy and digital literacy strategy for Ireland. Now that we enter 2022, we need your help to make sure it gets implemented. Our AGM will be an ideal opportunity for you to hear from us and to discuss with other members what you want NALA to concentrate on in 2022 and beyond.
Get ready to vote
We are delighted that we received 16 nominations to our Board. As there are only eight places available for director positions, there will be an election at our AGM. The Board provides essential leadership to NALA so, have a read about all our nominees and get ready to vote. Each nominee has a wealth of experience and most importantly a common believe that literacy is a human right.
Can't attend?
If you cannot attend our AGM online, you can:
Nominate someone, known as a Proxy, to vote on your behalf at the AGM, or
Send us your votes and nominations by completing a

Proxy form

.
You must complete and return the Proxy form to us by 11am on Thursday 28 April 2022.
Important documents
What to do next?
Register for the NALA AGM

To help with the organisation of the day please register by 11 am on Thursday 28 April 2022
If you cannot attend the AGM, return the Proxy form by 11am on Thursday 28 April 2022.
Please note: To be eligible to vote you need to be an active member of NALA at least one month before our AGM, that is, by 30 March 2022.
Do you have a question or need help or documents?
If you have a question about your membership, need help or want documents posted to you, please contact Margaret Murray, NALA Membership Officer. Margaret's phone number is: 01 412 7928 or you can email Margaret at mmurray@nala.ie.
Thank you for your continued support and I look forward to seeing you at our AGM.
Colleen Dube
NALA CEO
Other AGM Documents:
Please find below other documents sent to members related to our AGM.