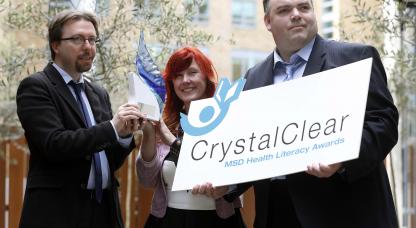 MSD Ireland and the National Adult Literacy Agency (NALA) open a call for applications for 20 awards for Ireland's only health literacy quality mark under the Crystal Clear Pharmacy Programme. This programme was developed in collaboration with the Irish Pharmacy Union (IPU) and is supported by Healthy Ireland.
The Crystal Clear mark recognises the critical role pharmacies play in helping people understand their health issues and the steps they need to take to improve their health. The mark is awarded to pharmacies where there is evidence of, and commitment to, providing a literacy friendly service. This requires taking account of the literacy and numeracy needs of people and looking for ways to consistently communicate clearly. The mark is awarded for three years and it is free to apply.
Colleen Dube, Chief Executive Officer, NALA commented:  "We know from research that people who are better informed about their medicines are more likely to take the medication correctly and have improved health.  As many people find clear and concise health information difficult to obtain, understand, or use, the Crystal Clear Programme enhances pharmacies' communication and customers' understanding of health information and benefits.  Given the critical role that pharmacies play in supporting and informing their customers, we encourage other pharmacies around the country to join that 102 that have been awarded the Crystal Clear mark so far."
Eoghan Hanly, President of the Irish Pharmacy Union, said: "Health literacy is about empowering people to ask questions and be informed fully about their health. As the representative body for Irish community pharmacists, the Irish Pharmacy Union strongly believes in equipping pharmacists with the tools to ensure that they can provide a literacy friendly service to the public, which will support patient understanding. The Crystal Clear programme offers practical guidance to pharmacies on how to communicate clearly with people, and the mark recognises those who demonstrate best practice in this area. We are delighted to support such an important initiative and that 102 pharmacies around Ireland have this mark. We hope more pharmacies will apply and achieve the award in 2021."
Mairead McCaul, Managing Director, MSD Ireland (Human Health) added: "At MSD, the patient is at the heart of everything we do and previous research we have carried out has shown that patients are calling for healthcare professionals to speak to them in a manner that is more easily understood. In response to this, the Crystal Clear Programme offers pharmacies guidance on how they can communicate more clearly with patients and recognises this when they achieve the Crystal Clear quality mark. This mark shows their community and patients they are taking necessary steps to improve the patient communication, experience and understanding."
The Crystal Clear Pharmacy Programme, Ireland's first health literacy quality mark for pharmacies, was launched in 2015. Within its first two years, 50 pharmacies were awarded the mark and up to December 2020, 102 pharmacies in 19 counties have now been awarded the mark. A full list of pharmacies is available here.
There are seven remaining counties who do not have a Crystal Clear pharmacy yet and so we particularly welcome applications from Laois, Leitrim, Longford, Monaghan, Roscommon, Sligo and Wicklow.
Pharmacies who wish to participate in the Crystal Clear Programme can complete the online audit here www.nala.ie/health-literacy/crystal-clear-mark/.
Irish health literacy research has shown:
40 per cent of respondents had inadequate or problematic health literacy (The European Health Literacy Survey 2012, Results from Ireland) Note: new survey results due during 2021.
17% of people had taken the wrong amount of medication on at least one occasion. (Ipsos MRBI health literacy research, February 2015)
Almost half (45%) of people surveyed couldn't define the term prognosis. (Ipsos MRBI, 2015)
39% called on healthcare professionals to use less medical jargon in order communicate more clearly. This was followed by speaking less formally (22%) and taking more time to explain things (18%). (Ipsos MRBI, 2015)
For further information, please contact:
Paula Cerruti, ReputationInc for MSD                                  Mobile: 085 722 3668
Niall McHugh, ReputationInc for MSD                                  Mobile: 085 733 1896
Notes to Editors
What is Health literacy?
Health literacy and numeracy is based on the simple concept of a health provider such as a doctor, nurse or pharmacist communicating clearly and the patient understanding that information so that they can make informed health decisions. For more information on health literacy check out this factsheet here or www.nala.ie/research/health-literacy-and-numeracy-in-ireland-a-factsheet/
About the Crystal Clear Pharmacy Programme
The Crystal Clear Pharmacy Programme involves pharmacies completing an online audit consisting of 10 questions. These questions look at how they communicate; staff awareness and responding sensitively; their policies and procedures; and how they evaluate and continually improve their service. Pharmacies who pass the audit get the Crystal Clear mark for three years and get a certificate and sticker to display in their pharmacy. Where a pharmacy does not meet the standards at first, NALA offers guidance and support to help them to achieve it. You will find the audit here: www.nala.ie/health-literacy/crystal-clear-mark/
About MSD Ireland
MSD Ireland is one of Ireland's leading healthcare companies, currently employing over 2,700 people across its existing six sites. MSD's operations in Ireland play a significant role in the company's global network, exporting to more than 60 countries worldwide. For more than 125 years, MSD has been inventing for life, bringing forward medicines and vaccines for many of the world's most challenging diseases in pursuit of our mission to save and improve lives.
About NALA
The National Adult Literacy Agency is an independent charity committed to making sure people with unmet literacy, numeracy and digital literacy needs can fully take part in society and have access to literacy learning opportunities that meet their needs. NALA has been involved in promoting health literacy for over 20 years.
Health literacy and numeracy has two elements:
Health services communicating clearly and taking account of possible health literacy and numeracy needs.
People understanding health information correctly (in writing, in person, over the phone or online) and can making informed decisions about their own health.