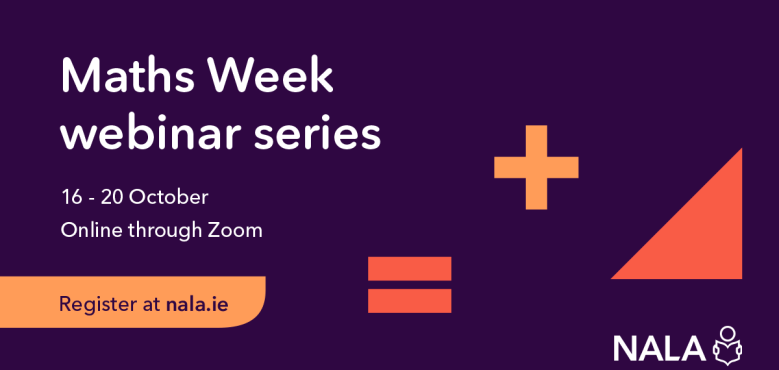 The National Adult Literacy Agency (NALA) is hosting a webinar series for adult education tutors to mark Maths Week 2023.
NALA is hosting five numeracy webinars that week.
The webinars are free for tutors to attend and a wide range of topics are covered including visual methods to present problem solving, numeracy and the media, making maths relevant, rounding and approximation and comparing offers from three mobile phone companies.
You can find out more details on each webinar at the links below.
Monday 16 October, 11am – 12pm
Visual and animated methods to present problem and puzzle solving, area, distance and measurement
Tuesday 17 October, 11am – 12pm
Rounding and approximation: Uses in real life including money and cooking (Levels 2 and 3)
Wednesday 18 October, 1pm – 2pm
Value for money: Comparing offers from three mobile phone companies
Thursday 19 October, 11am – 12pm
Numeracy in the media: Identifying maths tasks in the news and media
Friday 20 October, 11am – 12pm
Making maths relevant: Planning and budgeting for real life events
For more information, contact Fergus Dolan in NALA at fdolan@nala.ie