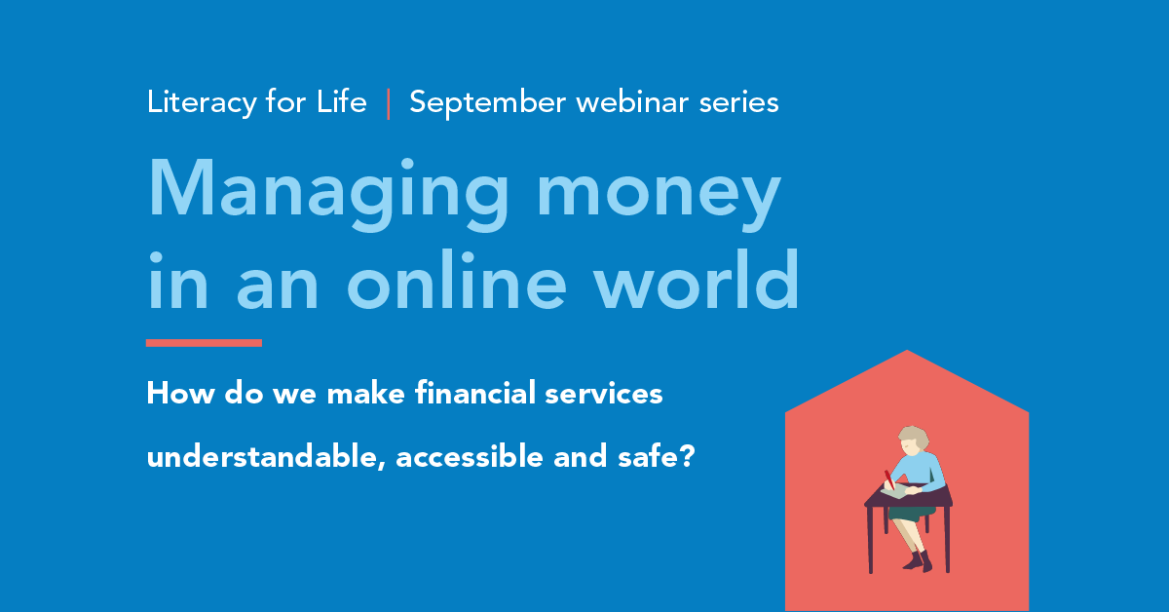 This webinar is now complete and can be watched back at the link below. 
Managing money in an online world
How do we make financial services understandable, accessible and safe?
As banks continue to close their premises in towns and move their services online, many adults with unmet literacy, numeracy and digital literacy needs are finding it difficult to budget and manage their money in a safe way.
Join our webinar on Wednesday 29 September at 1pm where we will hear from those delivering financial information and services to the public about the challenges they face in making information understandable, accessible and safe.
This webinar is part of our Literacy for Life webinar series, running every Wednesday at lunchtime throughout September.
We will hear from Chris Carthy, adult literacy ambassador and student with Mayo, Sligo and Leitrim Education and Training Board, about her journey of returning to education as an adult and her experiences of using online financial services.
We will be joined by Mike Gogan, who has been Head of Customer Language at AIB for over seven years. Mike has led the development of a plain English culture in AIB and trained over 4,000 of his colleagues in the principles of clear communication. Mike works to make sure AIB's customer language is clear, concise and compelling and always puts the customer first.
We will also be joined by Grainne Griffin, Director of Communications at the Competition and Consumer Protection Commission (CCPC).  Much of Grainne's work relates to financial services and the provision of personal finance information to consumers, including information relating to the costs to consumers, and the risks and benefits associated with the provision of those services.
A further element of the CCPC's remit is to promote the development of financial education and capability, which is achieved through a number of initiative including 'Money Matters', a Junior Cycle Programme and 'Money Skills for Life', a workplace programme.
Colleen Dube from the National Adult Literacy Agency will speak about NALA's work on financial literacy including research, teaching and learning resources, and training for financial institutions.
Once you register at the link below you will then receive an email from Zoom with a link to join the webinar on 29 September.