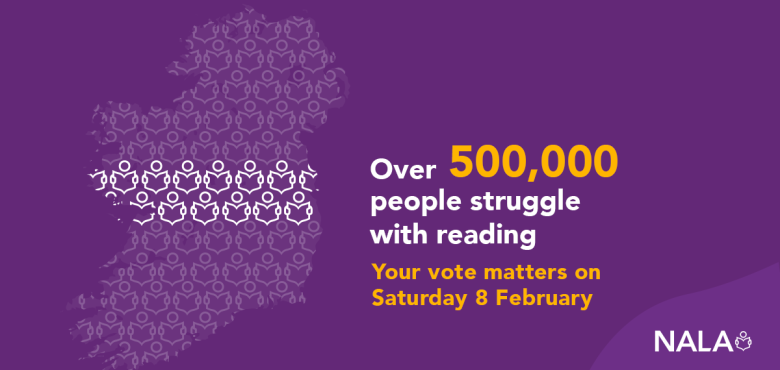 One in six Irish adults has difficulty reading and understanding information – that's over 520,000 people. One in four (750,000 people) struggle with maths and even more find technology difficult to use and face increasing challenges as we move into a digital age. This has a devastating impact on individuals, communities, the economy and our society. (OECD 2013)
The National Adult Literacy Agency (NALA) is calling on all political parties to show greater action on adult basic education and for the public to vote for candidates on Saturday 8 February who will prioritise people with unmet literacy, numeracy and digital skills needs.
Why is it important?
Low literacy costs. High literacy pays.
"As political parties talk of 'building an Ireland for all' we need to ensure that no one is left behind – this requires investing in people who have not benefited from our education system during bust or boom. Literacy is a human right. People with low literacy skills have low educational attainment, earn less income and are more likely to be unemployed. They are also more likely to report poor health and to believe that they have little impact on political processes," said Dr Inez Bailey, NALA CEO.
"If political parties are serious about creating a more equal, fairer society then they must have a strategy in place to prioritise people with low basic skills levels. Recent data from the CSO shows us that currently there are 445,000 people who have less that a Junior Cert or QQI Level 4 qualification. Many of these individuals are in work, in low skilled jobs and are unequipped to deal with technological changes in the labour market. This is costing exchequer millions in lost revenue as well as putting unnecessary strains on public services," said Dr Bailey.
What do we want?
The National Adult Literacy Agency is seeking the following commitments in political parties manifestos:
Develop and implement a 10 year Whole-of-Government Strategy for adult literacy, numeracy and digital skills (to provide opportunities for those with the least education)
Enact a Plain Language Bill to require that all information for the public from government and State bodies is written and presented in plain language (so that those with low literacy levels can access public information)
Read more about our Election Manifesto here
For media queries please contact:
Patrick Gleeson 01 412 7916/ 01 412 7900 or 086 792 5363.
Literacy – the cost
Unmet literacy needs costs everyone: our society, economy and environment, financially and democratically. The cost of low skills to the global economy is estimated at USD $1.2 trillion. A cost benefit analysis of adult literacy in Ireland concluded that by investing in literacy there is a positive and rapid return on investment across the board, for participants, the companies they work for and for the exchequer. The report found that "expenditure on adult literacy training generates high economic returns." It estimated that the annual income gain per person per level increase on the National Qualifications Framework was €3,810. The gain to the exchequer, in terms of reduced social welfare transfers and increased tax payments, was €1,531 per annum.
Unmet literacy needs also have a social cost. This can be seen across the domains of health (both physical and mental), crime, welfare and education and family (World Literacy Foundation 2015).
Unmet literacy needs has also been linked to other social issues such as addiction, homelessness and suicide.
Ireland can do better, can address inequality and be a literacy leader with improved adult literacy, numeracy and digital skills. Strong literacy pays and builds human capital.  People with good literacy, numeracy and problem solving skills are more likely to have better health and a longer life, be employed and earn better incomes.
Literacy and numeracy are key factors that shape individual life chances and their impact is critical for the labour market in terms of employment, earnings and training expenditure.
Literacy also influences our trust in others, our willingness to volunteer and our belief about the contribution we can make to the political process. Literacy enables us to be critically reflective engaged citizens which is essential in today's news and media world. Literacy changes many lives. Research has shown that the positive impact of further education carries beyond families and into communities – a ripple effect that produces broader social benefits.
See https://www.nala.ie/publications/nala-2020-pre-budget-submission/ for research references and more information on the cost of literacy in Ireland.
[1] Central Statistics Office (CSO) results for Ireland – 6,000 adults surveyed for OECD Programme for the International Assessment of Adult Competencies (PIAAC) 2012.