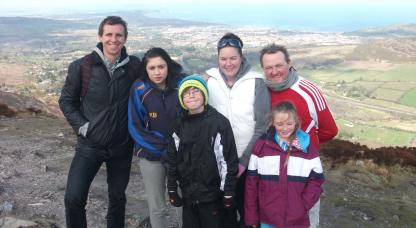 Between the pressures of work, keeping the house straight, minding kids and making ends meet having a family in Ireland today is no easy job. Finding time to do the homework can be a real challenge. Finding ways to make learning fun and interesting can sometimes seem impossible.
The Family Project is a new series that teams up six well-known and inspirational people with six very different families who are struggling with life's many challenges. They will mentor the family and it is their task to help their family overcome the obstacles holding them back and give them the tools they need so they can do more with their children with everyday learning.
In this week's episode on Monday 10 June we meet Karl Brauner and Christina Lyons who live in Bray with their three children Jade, Kyle and Robin. They're a soccer mad family – all the kids play and Karl coaches several teams, seven days a week. His all consuming schedule means that Christina carries all the responsibility for the children's education.
Christina says she dreads homework time as the kids are fighting for her attention and she sometimes doesn't know how to help them and at the same time she is trying to get the dinner ready and clean out lunch boxes. While all this is happening Karl heads out the door for training and Christina is left to deal with it alone.
"Sometimes I feel I do an awful lot by myself and sometimes I get very frustrated," says Christina.
"I'm always in and out with football and the kids are doing their homework, but when they're doing their homework they're trying to get ready for football, and then Christina is doing the dinner – it can be a little bit manic sometimes," says Karl. "They'll call 'Mam, do this' and I'm quite happy to let Mam do it – but I'd like to be more involved," says Karl.
In the programme, they work to shift the balance to Karl getting more involved with the homework and giving Christina a bit of a break. The target is that in over six week he is able to get more involved with helping the kids with their school work.
The family will be helped achieve their goal by former all-star hurling champion Tony Griffin. As the founder of the social outreach programme SAOR, Tony is passionate about young people's development and he knows well about the challenges of balancing a life dominated by sport with a fully rounded education.
They are also helped by Pam Bucanan who works with County Dublin VEC, who gives them advice on how they can best manage their hectic life. "School is not the first and only place that you learn and I think it's very important that parents know that they have more influence over their children's learning than anybody in school," says Pam.
The Family Projectis on RTÉ ONE at 7.30pm every Monday.
The Family Project is a new six-part series that follows families from around Ireland working together to overcome educational issues that affect their lives. This series will show families how through simple changes in their day-to-day lives, by learning new skills and pushing themselves to new heights they can enrich their lives and the lives of their children by learning together.
Since 2000, the National Adult Literacy Agency (NALA) has been using the mass medium of television to highlight literacy issues, outline supports that are available, motivate people to return to education and provide opportunities for learning in the privacy of their own home.
NALA has also developed a website to help parents support their children's education called www.helpmykidlearn.ie. It includes general information, fun activities and useful tips. Help My Kid Learn is a website where people can see that supporting a child's literacy and numeracy development is a natural, easy and fun activity that can be integrated into any part of their day.
ENDS
For media queries please contact:
Clare McNally                                                 Sarah Freeman
National Adult Literacy Agency                      RTÉ TV Press and Publicity
Phone: 01 4127909 / 087 6486292                 01 208 3111 /