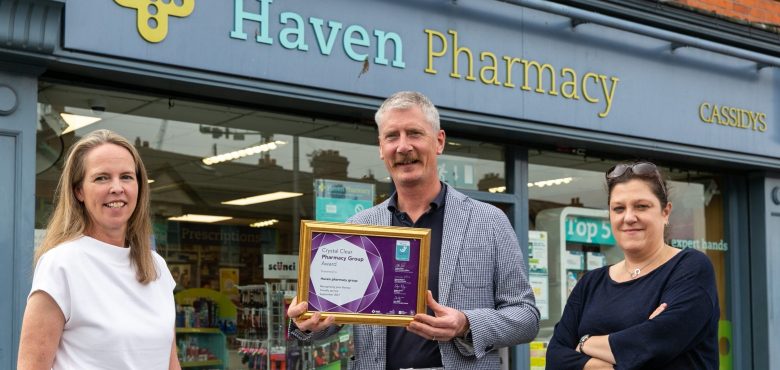 The Haven Pharmacy group is the first group to have all 49 branches receive the Crystal Clear health literacy quality mark.
This mark recognises the critical role pharmacies play in helping people understand their health issues and the steps they need to take to improve their health. The mark is awarded to pharmacies where there is evidence of, and commitment to, providing a literacy friendly service.
A new International Health Literacy Survey, due to be published by the Department of Health in October, shows that 28% of the Irish population have 'limited' health literacy and in particular struggle with finding and evaluating information. Delivering a literacy friendly service in pharmacies is important for this 28% so that literacy and numeracy needs of customers are considered and communication is clear and sensitive.
Colleen Dube, Chief Executive Officer, NALA commented: "We are delighted to present Haven Pharmacy with an award for being the first pharmacy group to have all their pharmacies achieve the Crystal Clear mark. This award celebrates the 49 Haven pharmacies all over Ireland who are engaging with customers in a literacy friendly way. This benefits customers' understanding of health information and their taking their medication correctly."
Daragh Connolly, Chairperson of Haven Pharmacy and pharmacist in Dungarvan said: "We are delighted that Haven is the first pharmacy group to have all their pharmacies awarded the Crystal Clear mark. Our pharmacies have found great benefits from applying for the mark, in particular how staff are now more aware of literacy needs and how to respond sensitively to customers. We can be more responsive and inclusive to the communities we serve every day. Staff are using plain English, avoiding jargon and confusing terms and going over medication and dosage to ensure customer is clear."
A local pharmacist said: "Slowing down and taking time to talk to customers to check their understanding, led to less telephone queries afterwards."
Mairead McCaul, Managing Director, MSD Ireland (Human Health) added: "We congratulate all Haven pharmacies for achieving the Crystal Clear mark as they demonstrate best practice in providing a health literacy friendly service to the public. We are delighted to continue to support the programme as additional pharmacies take the necessary steps to improve the patient communication, experience and understanding."
New call for applications
There is currently an open call for applications for Ireland's only health literacy quality mark under the Crystal Clear Pharmacy Programme.  There are seven remaining counties who do not have a Crystal Clear pharmacy yet and so we particularly welcome applications from Laois, Leitrim, Longford, Monaghan, Roscommon, Sligo and Wicklow.
The Crystal Clear Pharmacy Programme, Ireland's first health literacy quality mark for pharmacies, was launched in 2015 by NALA, the Irish Pharmacy Union and MSD and supported by Healthy Ireland. To date 105 pharmacies in 19 counties have been awarded the mark. Pharmacies who wish to participate in the Crystal Clear Programme can complete the online audit here www.nala.ie/health-literacy/crystal-clear-mark/.
-ENDS-
What is Health literacy?
Health literacy and numeracy is based on the simple concept of a health provider such as a doctor, nurse or pharmacist communicating clearly and the patient understanding that information so that they can make informed health decisions. For more information on health literacy check out this factsheet.
About the Crystal Clear Pharmacy Programme
The Crystal Clear Pharmacy Programme involves pharmacies completing an online audit consisting of 10 questions. These questions look at how they communicate; staff awareness and responding sensitively; their policies and procedures; and how they evaluate and continually improve their service. Pharmacies who pass the audit get the Crystal Clear mark for three years and get a certificate and sticker to display in their pharmacy. Check out the audit tool.
Preliminary findings for Ireland from the new International Health Literacy Survey (2021)
A total of 28% people in Ireland have limited health literacy.
People in Ireland have particular difficulty with evaluating and finding information related to health.
Having lower levels of health literacy is associated with poorer outcomes related to lifestyle, health status and health and wellbeing, as well as higher use of certain health services.
Groups that may need help to improve their health literacy include younger people, people who rate their level in society as low, people with financial difficulties, people who rate their health as fair/bad, people with psychiatric or mental health conditions and people with poor social support.