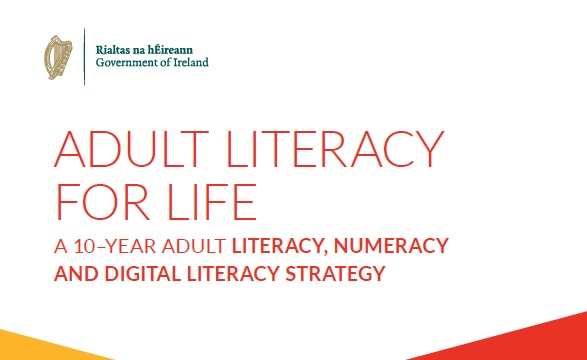 Minister for Further and Higher Education, Research, Innovation and Science Simon Harris is encouraging people to avail of supports available nationwide to improve their literacy and numeracy skills in the New Year.
The Adult Literacy for Life (ALL) strategy enables people, who may have left school at a young age, return to education through adult education courses. These courses allow them to build and improve their reading, writing and numerical skills helping them move forward through the further education route.
Digital literacy skills courses are also available throughout the country. Over the Christmas period, many have received smartphones, tablets or laptops as presents but are unsure of how to use them. If you would like to avail of literacy supports please contact your local Education and Training Board. Learners are guided through programmes that show them how to unlock the potential behind their device and help them grow their confidence while using them.
Minister Harris says:
"The Adult Literacy for Life Strategy has reopened the door to education that many people felt was closed to them in the past.
"It has helped them to improve their reading, writing and number skills and has enabled them to move forward in their education path, gaining new skills which they previously thought were beyond their abilities.
"My message to anyone out there is that there are supports available through your local education and training board. These supports are accessible and there are people waiting to help you. I would encourage you to call the freephone number, 1800 20 20 65 or go directly to the adultliteracyforlife.ie website."
€3 million was allocated in 2022 for the implementation of the ALL Strategy which included the setting up of a national programme office, the recruitment of regional literacy co-ordinators and the continued roll out of the Adult Literacy Awareness campaign. Former CEO of Gaisce – The President's Award, Yvonne McKenna, has been appointed as the first Director of the Adult Literacy for Life Programme Office.
Yvonne McKenna says:
"The Adult Literacy for Life Strategy sets clear and ambitious targets which, when delivered, will result in a better Ireland for all.
"I am delighted for the opportunity to be involved in this important project, to put this strategy into action and empower people and communities to make a real difference to their lives."
Another exciting development in relation to the implementation of the ALL Strategy was a pilot call for proposals under the ALL Strategy Collaboration and Innovation Fund, that was run in late 2022. Over €100,000 in funding for successful applications was allocated. Key learnings from the pilot call will inform a wider an open call that will be issued in early 2023.