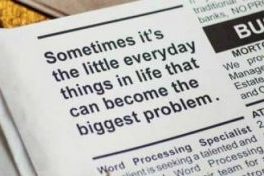 The theme of our awareness week this year is 'Sometimes it's the little things in life that can become the biggest problem'.
For example, texting, adding up a bill, using new technology at work or getting a basic qualification.
During the week, we aim to promote local literacy services and raise awareness of the benefits of improving reading, writing and maths skills.
If you would like posters or a press release for your local service, please email media@nala.ie.
There are a  number of events and activities planned during the week including:
Campaign for plain English
Monday 22 September.
We will launch a new campaign asking the Irish Government to ensure that all information from the public sector is written in plain English. We need 5,000 signatures on our petition so expect to hear more from us soon! You can register to attend this event here.
The National 
Ploughing

 Championships

Tuesday 23 to Thursday 25 September.

Our most energetic literacy learners will be available to meet, greet and speak to members of the public attending the event in Stradbally, County Laois.
Education through television
Wednesday 24 September.
We are organising a seminar in the Irish Film Institute in Dublin that will showcase our work in TV and explore new opportunities for collaboration. This seminar will be of particular interest to producers and organisations with a remit to educate the public.
Literacy and academic research
Friday 26 September.
We are hosting a research event. The aim of the event will be to discuss the role that academia and other research  institutions can play in encouraging and promoting further research in the area of adult literacy and numeracy.  If you would be interested in attending this event please contact Tina Byrne at tbyrne@nala.ie or 01-4127917. You can register to attend this event here.
Registration will be open for all our events, on this website, from Monday 25 August.