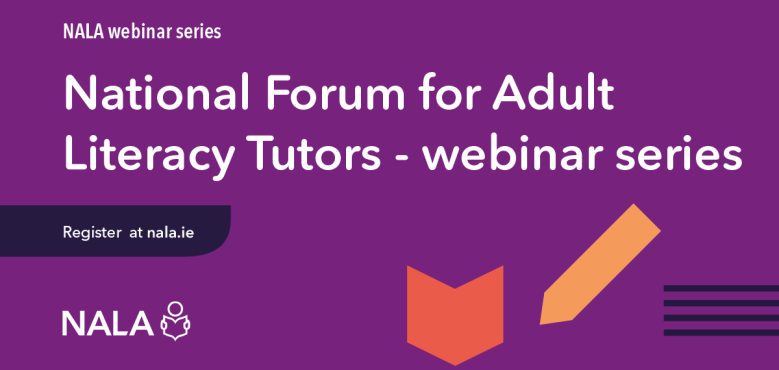 As part of our National Forum for Adult Literacy Tutors, the National Adult Literacy Agency (NALA) is hosting a webinar series for adult literacy, numeracy and digital literacy tutors from 30 January – 2 February.
You can find out more details on each webinar at the links below. There is no fee for attending the webinars. Please register below.
NALA is also hosting an in person National Forum for Adult Literacy Tutors on Saturday 28 January, from 10.30am – 3.15pm in the Ashling Hotel in Dublin. The conference will focus on strategies for teaching reading, writing and technology.
NALA membership: You don't have to be a NALA member to attend free webinars. However, we would be delighted if you would consider becoming a member if you are not already.
Contact Fergus Dolan at fdolan@nala.ie with any questions.
Monday 30 January 2023, 11am – 12pm:
ESOL students with literacy needs – Where to start?
Wednesday 1 February 2023, 1pm – 2pm:
Strategies and approaches for teaching reading
Thursday 2 February 2023, 12.30pm – 1.30pm: