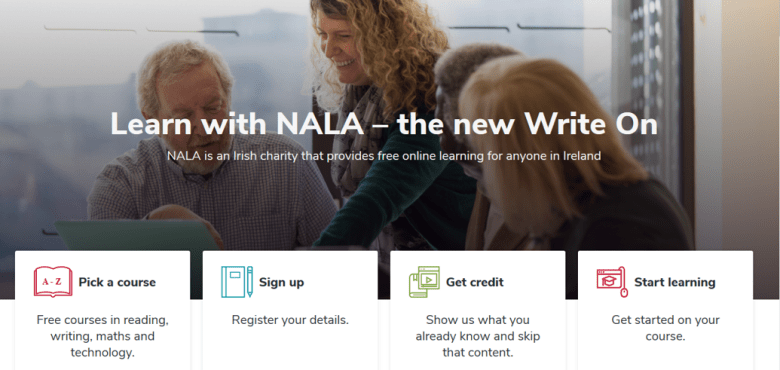 Our new e-learning website will be available soon.
It is called Learn with NALA and it will have lots of new and improved features that will help you improve your skills and get a qualification if you want to.
Our old e-learning website WriteOn.ie is no longer available and it is closed for all assessment and certification.
If you have any questions about our new website or WriteOn.ie please contact us on 1800 20 20 65.
What is happening?
NALA is currently changing from our old website called WriteOn.ie to a new online learning website called Brightspace from Desire2Learn (D2L). D2L are a global education company and provide online solutions for all education levels around the world. Their Brightspace system is used in University College Dublin and Technological University Dublin. You will find an introduction to Brightspace here. We have been working with D2L throughout 2019 to customise our new e-learning website and transfer the courses from from WriteOn.ie to the new website.
Testing
In January 2020, we will launch a test website with two centres and one course. We will use this period to test the functionality and user experience of the system.
Throughout 2020 we will be adding new centres to the platform and transferring the remaining courses from WriteOn.ie.
Centre re-engagement
All adult education centres will go through a re-engagement process with us before accessing the new website. This will involve a Memorandum of Understanding (MOU) and training (both online and face-to-face).
Each centre will be given their own unique account along with a URL link to register learners on the system. Every learner will need to have their own unique email address in order to set up an account on the new system.
Become a test centre
Want to volunteer your centre to take part in testing? This will involve testing the system with a tutor and class group. If you are interested, contact cwhelan@nala.ie by January 8th 2020.
To get your centre ready
Ensure your membership with NALA is up to date. To check contact mmurray@nala.ie
Review the Memorandum of Understanding (MOU)and when you are ready to sign it, contact ecohalan@nala.ie
Ensure your learners all have their own email address.